Hurray - summertime! And with the summer the sun, the feel-good and relax at a lake or pool. Every morning, when the sun is shining, I am very happy and look forward to the new day. And just on Mallorca. I do, of course. 😃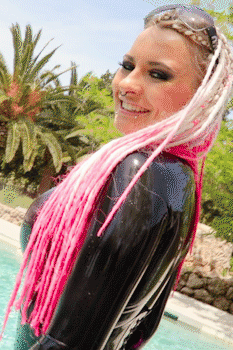 I have no desire for a bathing suit or a bikini today. Again, I want to have a lot of latex on the skin and that goes really bad with a small latex bikini. You know, I do not have any trouble to wear latex or maybe show more skin. It's just a dream come true. At least for me, I am very happy with my life.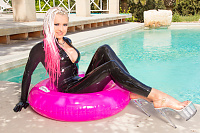 In addition, the rubber gets very hot in the sun, especially with a black latex catsuit, and this heat goes directly to the skin. It is not so direct, but a little softer and more distributed. Oh, I can not explain exactly what is going on in me when I wear a latex catsuit. But totally outstanding is the contact with water. This is a crazy feeling and I wonder if this is the case with a neoprene suit?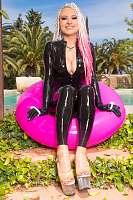 You know, you feel like a latex catsuit because this latex layer is very very thin. That's why it's all touching or even walking. If I go into a pool, however, this feeling is even more exciting by the latex catsuit. The suit is the same. On the other hand, I feel the water on my body, how it slowly wraps my legs and the deeper I walk around me more and more.
My head says at this moment: "Hey, now you'll be crazy", but somehow nothing happens. I just go to the water and notice somehow any water drop or any small wave. And if I was still in the sun and the black latex is really hot, then go into the cool water and put me on my pink ring, what can there be something more beautiful then?
Lara Larsen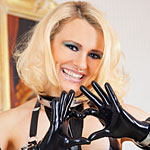 HD-vídeos y fotos