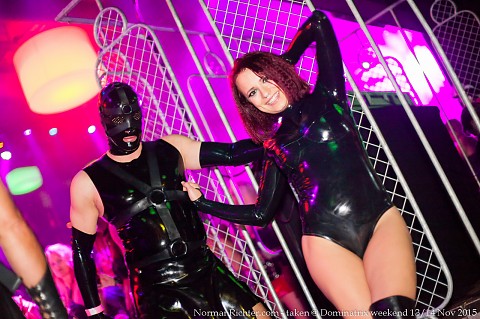 The Dominatrix is a very well-known fetish party in the Netherlands in Amsterdam and one of the biggest fetish parties in the world. I was never before on such a big event but in the past, I've spoken to many friends about scene parties and often the Dominatrix was recommended often so that I very quickly decided to go to this party. Now, I want to tell you what I about my impressions and what happened.
Meet and Greet at Dominatrix
The Dominatrix 2015 was from 13th to 14th November and is a highlight for everyone who likes the alternative lifestyle. Not only latex but any alternative way of life was welcome and the most diverse people met with one single purpose: Spending lots of fun and joy together. As always at such major events the "faces" of the party like the organizers but also the models are very important.
This pre-party called "Meet and Greet" was here so that every visitor of the party can firstly meet each other and see the personal stars life. A fantastic idea and - now here comes the sad point of my story - I couldn't be there. Unfortunately, I've arrived by car and was not there in time to take part to this first event. Therefore, I can tell too much about this. 😞
Fetish Dinner at Dominatrix
However, I can tell you more about the celebrating fetish dinner. Exactly from 5 pm all visitors with a special access to the dinner came in a small restaurant which was in the same house of the party. There were several tables with 6 or 8 seats for the guests and everyone was looking beautiful their latex clothing and already enjoyed the upcoming event. A three-course meal with an award ceremony and a small show was announces and everyone was excited.
The hall was pleasantly decorated with atmospheric light. I sat down at a table on the side where also an incredibly sweet and nice couple from the Netherlands sat as well. After we ordered our drinks we got beautifully to talk until a funny and nice guy began a small stage program. From my side this guy was a fantastic choice from the organizers because he was very humorous and made a great atmosphere.
After the first course was bought to the the tables the funny guy announced that now the first prize for the best new model (best & upcoming model) in 2015 will be awarded. I was just eating my Carpaccio when I heard MY NAME! "Lara Larsen", I asked back and was totally confused. Did the jury really choose me? Am I really chosen? What can I do?
Slowly, I stood up and straightened my beautiful latex blouse by Simon O. because I had the need to touch something. And as you know latex calms down, well at least it does for me, so it was a good feeling. Then, I went up to the stage and had this totally blatant grin on the face which I didn't have off for all the night. I went on the stage and stood in the spotlight while many camera-flashes flashed up from the bottom. Somehow, it felt like a dream and I could not think clearly. Everything was so quick and I got the first real price as a model and I was so incredibly proud. Being the Best & Upcoming Model at the Dominatrix 2015 is so cool and makes me so unbelievable proud.
After I got back to my seat the Miss Fetish Europe 2015 was awarded as the models that have influenced the scene with great photos and more for a longer time. There were so many great models nominated so I'm sure it was very difficult for the jury to choose the right models. Finally, the choice was really good: Dutch Dame, an incredible lovely model from Holland, got the 3rd Prize, HoneyHair from the Czech Republic the 2nd price and the ultimately beautiful Starfucked from Sweden won the first prize.
The main course was a buffet with many tasty things which I couldn't eat anymore. I was so happy about the price that I was unable get a bite. For a good distraction of myself a pretty cool bondage show was done while we were eating and I asked myself all the time if it feels to be chained to good to a metal ring like this girl in the center of such a room. With skillful movements the girl was fixed so that she was unable move anymore. It seemed for me to be useful for playing but also very chic as well. At all it was a great dinner and a fantastic show which was not that clear for me.
Finally, we raised the glasses once more to this so successful and great award and all the models were photographed again. Then I hurried to go back to the hotel because beside the excitement and tension in my stomach I wanted to prepare myself for the main party and wanted to look as sexy as possible.
Dominatrix Party 2015
When I arrived at the hotel the tension lowered a little but I was still unbelievably proud about my sweet cup. Standing between these well-known models was fantastic especially with my own price. Now, I wanted to be a good girl who really deserves the prices and begun to style my hair and perfected my makeup. As the outfit I chose my super sexy latex body of Simon O. which fit so perfectly to my body and I combined it with my beloved thigh high boots by Arollo. That was exactly the outfit which let me feel super sexy and I know that it was time to take the shuttle and get back to the party.
Meanwhile, a big crowd stands in front of the entrance and the nervousness rose again. What can I await for this night? I love latex and I know that there are so many strangers who share the passion and feeling for me but how will it me at this party?
I've firstly noticed that many changed their outfit at the party which is really a pity for me. There were so beautiful latex outfits that I could wear most of them all the day wherever I am… but okay that's just me. The dress code was all around alternative fashion like leather clothes, simply corsets, latex or being naked. Some wore brilliant masks or harnesses which made me really jealous. Everyone could life its passion and otherwise you could see and enjoy the coolest outfits which made it so exciting to go on the Dominatrix here in Amsterdam. But it should become even better!
I went into the big cathedral like all visitors and saw a big stage for catwalks in the center. Here some pretty cool fashion labels such as Brigitte More, ExxEss Latex, House of Harlot, Inner Sanctum and Kurage presented their newest designs with cool music and light effects. I liked every show and every designer had at least one outfit which I could immediately put on at place. The show with the beautiful models motivated me and I promise that I will be one of the models on the next big fetish party.
Beside these brilliant shows the audience was very balanced, in a best party mood and everyone had fun. For myself, I've enjoyed this evening and was totally intoxicated by this event for some days. I can't make a comparison to other parties and I think it is not needed because the Dominatrix 2015 was my first fetish party at all and really with for everyone who likes to party and loves to be around other cool alternative people.
Finally, I want to thank Simon O. for his great outfits, the organizer at all for this great and well done party and also to all the friends I've met and the visitors who made this party to such a special event for all of us.