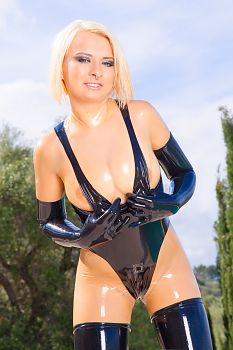 Cameltoe, or camel toe, is a funny comparison for the look of very tight clothing between a girl's legs where the shape of her pussy lips can easily be seen. So, what is a camel toe? The shape actually looks like the toe of a camel, with two round bumps and a split in the middle.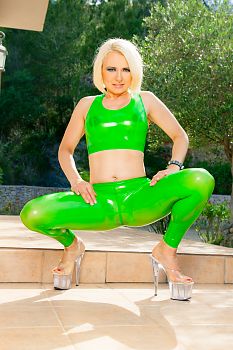 The effect of the cameltoe is most clear when a woman is wearing tight pants, tights or leggings of thin material. The tighter and thinner the better! It is most prominent when a girl isn't wearing panties - which is not unusual when wearing tights. It also looks best when the girl has a shaved pussy, with a smooth shape of her labia.
Effect of the Cameltoe
For some people, the sight of cameltoe is obscene. For some girls it is embarrassing and unintended - they are horrified if their clothing shows this shape. But for others, like me, the sight of cameltoe is fun and sexy. It can be a deliberately provocative look in modern fashion and this style evolution is no different really from that of tight leggings showing the shape of a girl's bum. It would once have been seen as wicked and dirty to be able to see the sexy peach-like shape of a girl's ass, but leggings are now made deliberately with a seam in the crack of the butt to enhance the shape of her butt cheeks.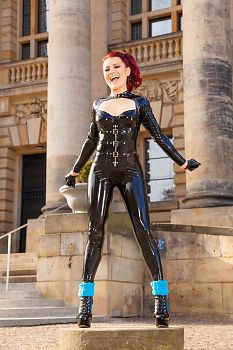 What's the difference between this and a cameltoe? It's just fun and sexy 😃 The cameltoe also finds its way into young fashion and more and more young girls are even enjoying the barely-there bikini style of companies such as "Wicked Weasel", who make swimwear so small they hardly cover a girl's most private areas and leave very little to the imagination 😃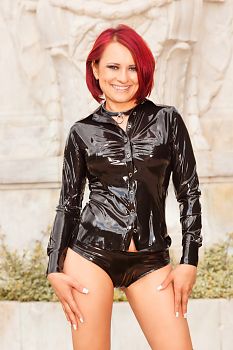 The special design uses very thin materials and places a seam right in the centre of the piece, actually pulling the bikini or swimsuit between a girl's pussy for the best possible cameltoe effect. It's a really eye-catching look at the pool or beach, at its sexiest if the girl is shaved smooth down there. And now you know about cameltoe, you can keep an eye out for it elsewhere.
Tight cycling shorts, for example, or swimwear and running tights and fitness wear might offer a glimpse of the shape of a girl's pussy. It might be accidental, but it might just be that the girl is enjoying having herself on show like that - you never know where you might see it. Does the girl have a little smile on her face?! 😃 I know do when I'm wearing tight leggings and know I can't hide my camel toe. 😉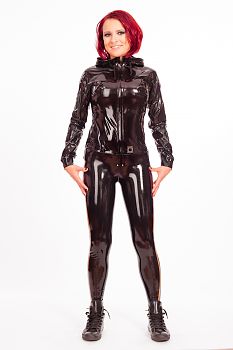 Latex designers often incorporate deliberate camel toe into their looks, especially with the modern fashion based on the tight and slim cut of sportswear but with the shiny look of latex.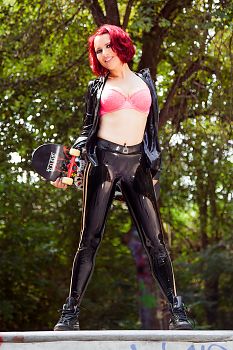 Some designs of latex leggings, pants and tights, for example, are made with a deliberate seam placement to actually enhance a girl's cameltoe, parting the butt cheeks and pussy lips to make them clearly visible. And one more delight from this particular design - for me, anyway - is the feel of it 😃 Walking while wearing such leggings, with the seam cutting in between my pussy, makes every step very enjoyable. It's no wonder I'm always smiling when you can see my camel toe. 😉
I love my Cameltoe
Yes it is right and people often wondering why I say it that clear that seriously love my cameltoe and the effect on men. But exactly this effect to know guys get horny just to see the cameltoe makes me hot for myself.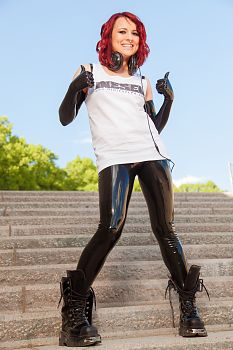 A friend of mine wrote once an article called "Girls wearing shining leggings and Showing Pussy Shapes" where one of my photo was the headline. I was so proud as the topic itself is exactly my love. Many ask something like "When will we see more Lara Larsen naked pictures" even you already have a cool photo shooting where I have an inflatable plug in my pussy. But to be honest showing my pussy behind a thin latex layer is something kinky and different in my eyes. I'm not that obviously naked if I am in public but otherwise everyone know my pussy and gets a turn on. 😁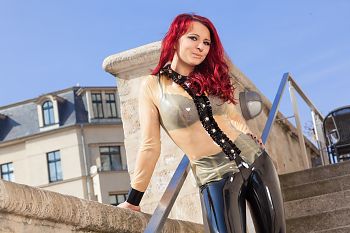 I think you already saw me some leggings with cameltoe pictures of me and you know that it is not just for you a real turn on. Showing my cameltoe to others and not just on pics and videos became something like a hobby of me and even if I know that boys look and me while I'm shopping let me feel butterflies in my belly.
Don't get me wrong, it is not just to show my camel toe so that other think this is a real slutty girl. A cameltoe is also fashion styling and like many tight latex leggings which show my body clear and sexy the cameltoe is just a part of it. So if I run though a shopping mall I know that people look on me. They see my leggings and see my cameltoe very quickly. I really love my cameltoe and getting compliments for my slit is somehow really kinky but at least I feel good and that makes it fun and let me feel proud.