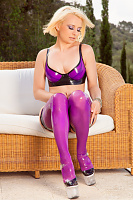 Everyone knows by now that I love wearing lots of latex, especially total coverage. I love the feeling of being enclosed in tight rubber, all sealed in, shiny and sexy. For example, recently I went to have my hair styled, with blue latex leggings showing under my long grey jumper and my black rubber Converse All Stars. When I sat down and my stylist wrapped the gown around me, she noticed the same blue just peeking out at the neck of my jumper; my "leggings" were the bottom half of my vibrant blue Simon O latex catsuit 😃 (I remember that day well because it was a really hot summer afternoon! Hot sun and a full catsuit can make for a sweaty time *giggles*).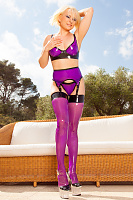 Or at a bar with friends I've worn jeans with what looks like a shiny black latex long-sleeved top. Only I knew all night while we were out that under the jeans and inside my over-knee boots, my legs and feet were covered in rubber too; what looked like a top was actually a full black latex catsuit. I spent the night reveling in the fact that the zipper between my legs was rubbing against my clit and I was getting seriously turned on. It was all I could do not to grind myself against it as I chatted with my friends 😉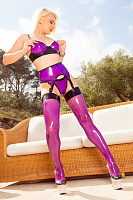 Sometimes, though, I like to surprise everyone and in this new shoot I wanted to wear a little less latex - in fact, a LOT less latex 😃 I wanted to make you all horny with a bit more of just me 😃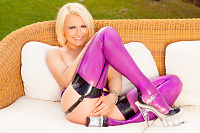 I decided to wear my latex lingerie from Latexa in semi-transparent vibrant purple: my pretty little bra, a teeny-tiny g-string and seamed stockings with suspenders. I needed only a tiny bag to pack this latex for my shoot!
For me, even the first little step to wearing latex plays a very big part in making it perfect: the lube. Especially with transparent latex, it needs a lot of lube to make it look as good as possible, making it slide on easily and become a second skin on my body. To make sure it all looked perfect for the shoot, I started by carefully lubing my stockings, all over the inside and outside, and then used more on my legs and feet, enjoying the sensation of smoothing the lube over my skin until I was nice and shiny and slippery *giggles*. (OK, so I might have let my lubed fingers slide up a little higher and slip inside my pussy for a few moments 😉
I carefully scrunched up the first stocking and slipped my foot inside, enjoying in the seductive feel of the tight latex beginning to envelope me, my toes first, then my foot, then stretching the rubber over my heel and gently working it up my leg and smoothing it out with my fingers to ensure there were no wrinkles. With these particular stockings I also had to ensure my seams were nice and straight, so I took my time, checking them as I went, easing the stocking up my calf, slipping it over my knee and then on up my thigh ... it really turns me on to put on stockings! I love the feeling as it stretches over my little toes and gradually seals in my feet and legs ... it gives me goosebumps just writing about it 😉
Once both my stockings were on and my seams were nice and straight, I slipped on my suspender belt and clipped them in place. This is always a bit tricky because by this time, my fingers are all slippery with lube. The suspenders often slip out of my grip and it makes me laugh to grapple with them to get them fastened. 😃
Next I stepped into the g-string and pulled it up - I absolutely love the feeling when the tiny string part slips between my butt cheeks and I feel it cutting into me. 😉 I often pull it a little and feel it sliding against my clit and my butt. This time I played a little with it, sliding it against my pussy and enjoying the lube.
All that was left was my bra. Until now, my boobs had been free (I'd played with my nipples a little *giggles*) But now it was time to feel the latex slide onto them, too, and I struggled a little with the poppers to close the bra strap because my boobs stretch it so much! But finally I was dressed - in not very much latex 😃 - ready to offer my body up to be photographed. As I posed for you, I could feel the g-string slipping further up into my ass and constantly sliding against my pussy. My photographer even had to tell me to stop standing funny - I was being naughty and making the g-string slide against my wet pussy! 😉 So think, as you look at me here in these pictures, how I'm all wet from enjoying it so much and - hopefully 😉 - you can get turned on, too *giggles*. Let's see if it works 😉
Lara Larsen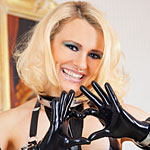 Join Now for Full Access