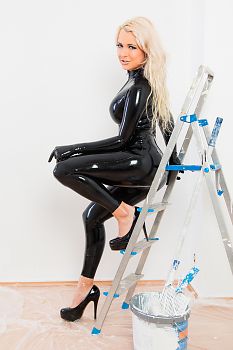 A latex catsuit, also called latex suit or simply catsuit, is one of the most sensual and classic garments made of latex. Long before I came in contact with latex and it was known today a part of latex fashion a latex catsuit was mainly known at the forefront of latex lovers.
History of latex catsuit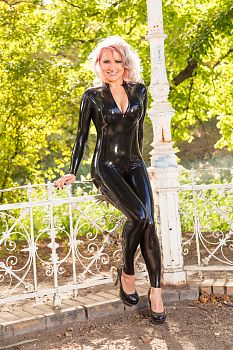 A latex catsuit in the original sense is a suit, which includes the body, the legs and arms also fully in Latex. Back then, it was less to the optical effect of a catsuit, but rather to feel the material latex on the skin and to be fully wrapped in it. Often, such suits were then compiled with a latex mask and, if latex catsuit was not equipped with, added with stockings and gloves to fulfill the all-round feeling of wearing latex in the whole body.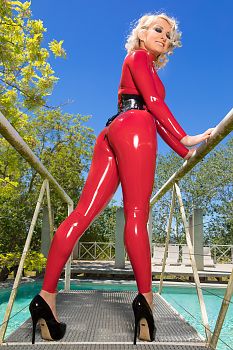 The carrier preferred the feeling on the skin and less the aesthetic aspect why mainly men are the pioneers because the visually attractive and chic effect was mostly missing for women. Therefore, it took a while in which the quality of the latex significantly improved such as, for example, the processing of cutting interesting designs and curing as well the material shape itself. The quality of latex has been adjusted over time and got smooth but also the cut was better to fit the female or male body.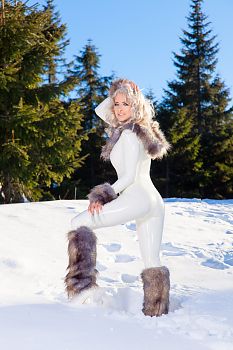 One of the major designer for latex catsuits is Simon O.. Over 20 years of developing for the best cut makes his catsuits today to one of the best fitting one in the world.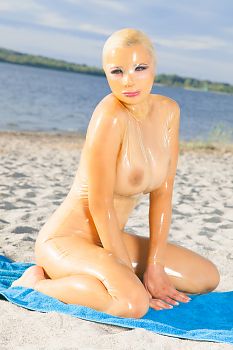 First latex catsuits had a thickness of 1.0 mm which restricted the wearing comfort and the feeling was perceived as not pleasant on the soft and feminine skin.
Latex catsuit in fashion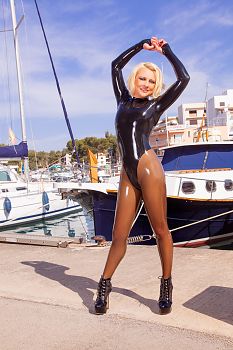 The latex fashion industry is a growing market and not only a scene element of clothing as like 5 years ago. There is more often presented latex garments in combination with casual fashion at the Fashion Week. And not just since famous singers wearing latex catsuits like Lady Gaga or Britney Spears this fashion has become socially acceptable.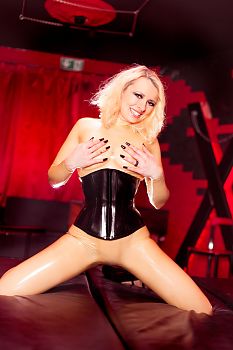 Modern designers banish the latex catsuit from the "dirty" area and revive it to a new and chic must have like in the 70's a jumpsuit. The variety of designs of catsuits is not restricted and has many possible looks not just because of the many latex colors. That makes also today a latex catsuit to one of the most popular items of clothing in the flamboyant world of fashion.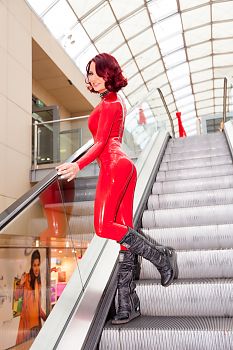 The new quality of latex and the lower thickness of 0.6, 0.4, and 0, 35 mm make latex very capable of stretching and gently adapt itself to the body. The former reduced and unpleasant feeling on the skin gives way for the sexy appearance and is a coveted piece of clothing for the soft female body. Any women who loves pvc, gloss and the optical wet-look effect and also since the sexual revolution many woman can be narrow down by ancient prejudices and barriers.
Latex catsuit is not offensive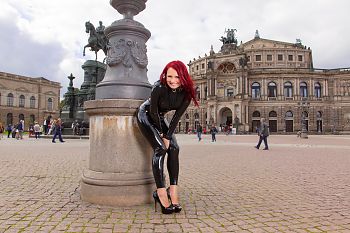 The sexual revolution in the 70s let women wake up and allowed them to judge about her femininity and attractiveness for themselves. The prejudice that woman are whores just because of their open attitude to show their femininity and stand for their sexuality is an outdated and classic images of on older world view of people. The skirts were getting shorter and tops and hot pants came up in the 80s and exposed and showed more and more naked skin. I am very grateful that there were strong women who have prepared the right way and I wear proudly my latex catsuit, tight fashion or ultra mini hot pants in public which is my tribute to clear that classic view.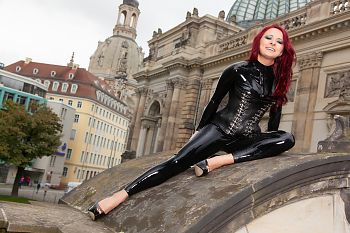 The free access to pornography on the Internet and much more let young people become open minded about erotic or sexy outfits. So it is a compliment today if a man referred a girl as "hot slut", "horny girl" or simply "sexy bitch" if she wears just tight or shiny clothing.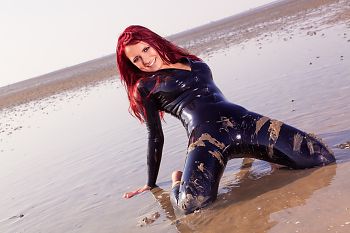 Borders are often only in the minds of the people and have easy to find nothing on my website. I love latex and a variety of outfits that would see my parents or grandparents as offensive and slutty. But I'm a young girl and love my ass exposing hot pants and my tight latex catsuit showing my body curves because finally it looks good and delicious. It is a type of fashion I love and like and I feel it is modern and a right way for tolerate and open-minded world.