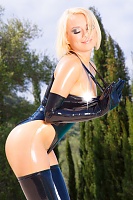 "Heavy rubber" was a term I'd not heard until I had been into latex for quite a while. I didn't really understand at first and I thought it just meant that the rubber was literally heavy, meaning it weighed a lot. That is partly true - latex comes in different thicknesses, such as 0.2mm for things like wonderfully light stockings, 0.33mm which is the usual thickness for something like a catsuit, but it can go up to 0.6mm and even 1mm for extra thick items, and those can weigh a lot!! Some people like to have a catsuit that is very thick and quite restrictive, but I always preferred my latex to be thin and fine as it always feels so nice on my body for wearing all day in everyday life. It fits perfectly tight, like a second skin, but allows me to move freely, just sealed inside a thin layer of rubber ... it makes me horny just thinking about it.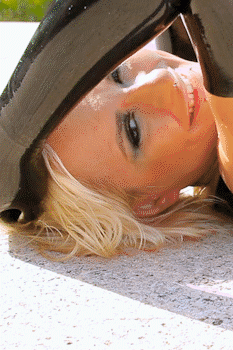 But I like to experience new things so I asked a friend about it - an old latex lover - and I discovered that "heavy rubber" can mean more than just weight and thickness; it can mean layers of latex and all-covering rubber, like full catsuits and hoods and gloves, all layered over one another, maybe with a thick corset for an extra squeeze. I was intrigued - and that's what this shoot and HD video is about.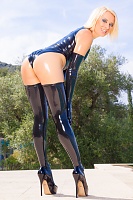 I thought a perfect way to start would be my transparent latex catsuit. It is totally see-through and makes me feel amazing. It is difficult to describe because I am totally covered in tight rubber, but I am also totally naked. I can feel a little shy and ashamed if I am naked in front of someone, but in this catsuit I feel wonderful, even though you can see my tits and my nipples, my pussy and my ass. I can't hide anything - I am basically stark naked - but I feel somehow empowered by being sealed inside my lovely latex second skin. I feel sexy and horny even though all eyes can see me underneath. It's humiliating and empowering all at once.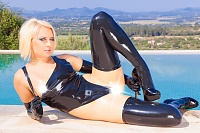 So then came the layering. Just two layers for now ... maybe I will try more another time. But I took my black latex stockings and lubed them inside, lubed my feet and legs and wrinkled the first one ready to slide it on. It was then I found how hard it is to dress in latex layers! Latex on latex sticks and it was a struggle to work the stocking up my leg; I couldn't correct the position very easily like I can when it is latex on lubed skin and I had to roll it down a couple of times and try again to make sure the catsuit underneath didn't get wrinkled up and the stocking was smooth. It was hard work and it was a very warm day so I couldn't help but begin to sweat inside my tight rubber catsuit, but I wanted it to be perfect so I made sure I took some time to get it right. I managed to get my stockings on and stood and admired the shiny black on my legs contrasting with the transparent shine on my body. I have to admit, I did run my hands up and down my legs a few times over the shiny latex, feeling how the extra layer made it feel tighter and how it even became a little more difficult to bend my legs with the extra compression.
Then I moved on to my long latex gloves, which were probably even more difficult to put on with the same latex-sticking-to-latex problem but only one hand to work with! I got my fingers in without a problem because they were not already rubbered, but it was tricky to get the gloves all the way up my arms to my shoulders. It took some time but I got there - and it felt wonderful. The extra constriction at the elbows made me wonder how many layers it would take before I couldn't bend my arms!
So I was ready: transparent rubber catsuit sealing me in from the neck down, then stockings over the top and gloves completing the outfit. But wait! It was then that my photographer said I should go one more stage: my latex leotard. And he was right - such a good idea. Apart from my shoulders and the tops of my thighs and hips, I would then be sealed inside TWO layers all over my body. So I took the leotard and lubed it up and wriggled and pulled and squirmed my body inside it, up my legs and then carefully positioning it on my butt, and then working it up over my tits and eventually I was in - a sealed rubber doll for you.
I felt the second skin of latex tight all over my body, squeezing every millimetre. The leotard spread my sexy ass cheeks and pulled into my pussy lips with every move I made. And because of the latex-on-latex, I couldn't do anything to pull it out. Every time I tried it would immediately snap back into place, cutting up my butt and pussy lips and making me feel like a very naughty little latex slut. It felt so good as I posed for my photographer, but as I walked and moved it just felt tighter and tighter all over and I couldn't help but get very turned on and feel very naughty. I had to use so much lube that it had run down the stockings and I could feel it squishing around my feet sealed inside the rubber.
It felt like hours that I was a naughty rubber slut and it made me feel dirty enough to slowly remove the black layer and show you my body in transparent latex ... still sealed and covered fully from the neck down, but also naked and humiliated for your pleasure. Do you like your naked rubber doll?
Lara Larsen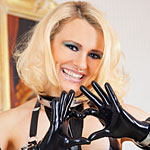 Join Now for Full Access