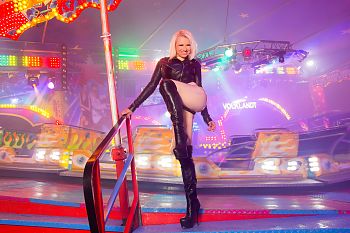 Overknees, also over knee boots or thigh high boots are boots, whose shaft ends above the knees. For a long time these boots were something obscene and only offered in various fetish shops.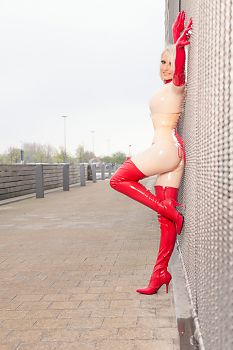 Overknee boots are one of my absolute favorite boots as they look very sexy with this mostly tight high shaft. The idea of these boots is quite old and well known from the series "With Umbrella, Charm and Melon" from the 60s with agent Emma Peel as she wore perky paint overknees to her business suit.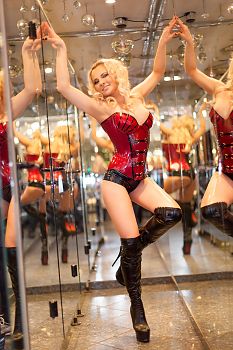 These boots were mostly seen as something surreal and not for casual fashion which was considered as a special equipment for prostitutes or sluts. However, over the knee boots got properly known by the successful film "Pretty woman" in which Julia Roberts played a prostitute and wore crotch boots. Crotch Boots are a special type of overknees which shaft ends directly below the ass. Many saw these boots from another point of view but still categorized overknees as hooker boots and quickly classified a girl with such tight high boots as small town slut.
Overknee Boots and Latex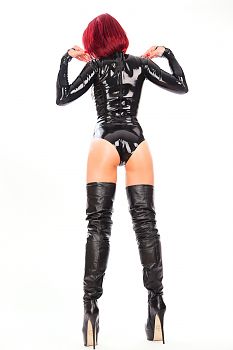 One of the most sensual effect is the combination of over knee boots with tight shiny fashion like wetlook or latex. The special effect comes from the fact that especially females wear tight clothes and show their body shape obviously. This effect is mostly known and very sexy with latex.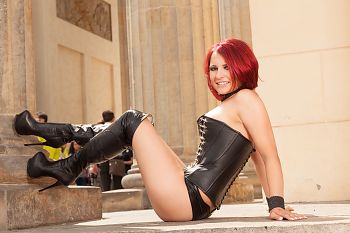 If you combine now boots or better over knee boots it makes it makes the look very sexy and that is the reason that I enjoy to wear overkneeboots with latex for sexy photos or to have a hot night.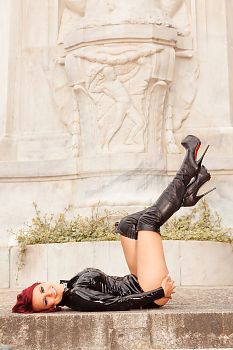 I know and feel how people look on me if I wear something in latex like a tight shiny latex blouse or leggings. But if I combine it with overknee boots the air is burning. In most cases people look at me and give some sweet compliments which make me mostly very proud.
Effects of Overknees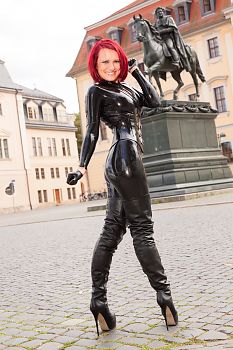 The effect of over knees, especially in sexual direction, comes close to the passion for general boots. There are specific properties for this passion which make this type of garments very special and everyone has its own favor for it. In some cases it is the material like leather, lace or latex but it can be also the shape of the posture of a woman in high heels in the connection with a narrow shaft.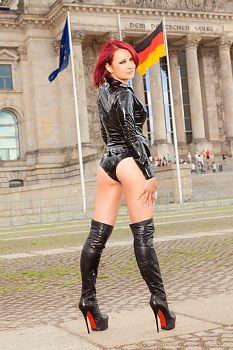 Also the obvious use with some traces on the boots add a special value for boot lovers and can also bring and create a sexual attraction as a special feature. The complexity can be finally the interplay of different properties like for me the height and tightness with the gloss of the shaft with a smooth shape and material.
Overknees on the Catwalk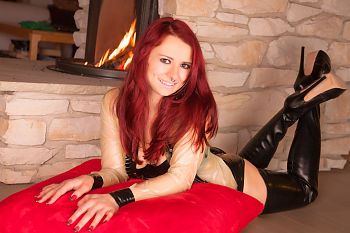 Even there is an erotic attraction emanating from over knee boots these boots are also on international catwalks and got generally accepted because of no less icons such as Madonna and Victoria Backham. Designers like Louis Vuitton use the effect while adding studs to the over knee boots and embellishments or Gucci and Prada bring simple but elegant boots to the general market. Since the first lady Michelle Obama wore black over-knees by the designer Robert Clergerie it's everyone clearly that these boots aren't only worn in a small secret scene.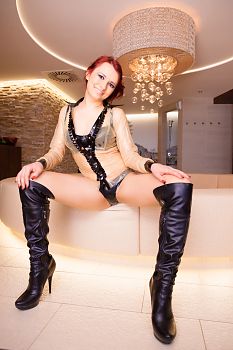 So it's up to you if you like such tight high boots and if you see them as elegant or disgusting but for myself I totally love my thigh high boots and I wear them with pride. I know that there a guys who see different on my overknees and maybe still think dirty but I don't care and love my boots.