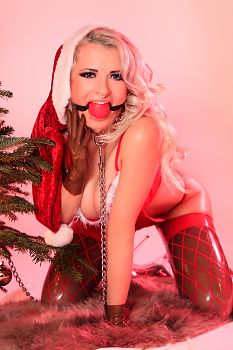 A ball gag is a gag which is inserted into the mouth to prevent the chance to speak and talk. Generally, gags are well known in the BDSM scene and can be made of cloth, tape, bridle and exist in any other form.
The aim is to prevent the sub being able to express any own desires or opinions. But the ball gag belongs thereby to one of the most common gag and is one of my personal favorites. But why do I love to wear a ball gag and what does it feels like?
Photos with Girls and Ball Gag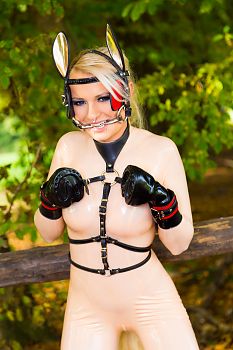 In many scenes it is normal that the girl take the obedient and submissive role, although today's society tries to propagate the opposite. A ball-gag takes on an important role and the ball gag is to obey.
I think many women are self-sufficient out of necessity. But if a woman has a strong partner she can unconditionally follow which is for me one optimal relationship. Therefore, I see myself in pictures preferred on knees with a beautiful eye-catching ball gag to wait for commands.
Images with Ball in Mouth
The depiction of woman in various poses has been known since the invention of photography. Whether it is the act or a portrait but always an image has its own effect on viewer. A photo can appealing or repulsive act and the same goes for images of women with a nice big ball gag in her mouth.
The ball is primarily to be a used to prevent the whining and screaming of woman in erotic games or to prevent the chance to call for help. In addition the subjugation and humiliation is also an important role that is certainly good in images or videos.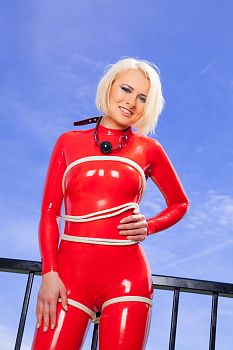 Many men see in these images of women a particularly erotic charm. Fulfilling of own fantasies is the focus. Many well-known photographers took the challenge and realize with erotic art pictures with ball in mouth some cool art of woman.
Ball-Gag Photos
Many photos are simple perfect in styling and show woman in pictures with a ball gag in submissive postures with a rope or handcuffs. The kneeling pose with a submissive looking to camera is certainly the most exciting image for dominant viewer.
The diversity in the bondage scene but also many other conversations are possible, showing a very submissive mood. Open hands or a lying posture with a bare ass for punishment are also charming and the ball gag in these pictures is always an important role.
Ball-Gag Experiences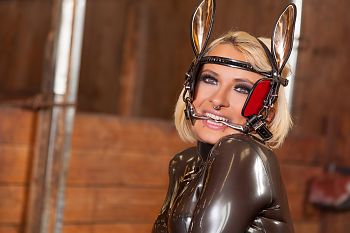 A ball gag is a mouth gag in the shape of a ball which is pushed between a person's teeth and fixed by a band around the head. The open mouth can't be closed and the teeth are widely spread like a stag-evil and only the lips are on the ball of the ballgag.
Speaking with such a ball in the mouth is impossible whereby this freedom of the person is taken.
Therefore gags are often used in the BDSM scene to take the freedom of the sub and give the dominant partner an addition power. In addition to this limitation some people who wear a ball-gag or because they droll because of the gag feel humiliated which can be an additional erotic effect.
Types of Ball Gags
There are different types to be ball gagged:
Ball Gag in rubber are available in different sizes and colors and these are my personal favorite. They can be cleaned easily and look cool because of the colors.
Ball-Gag in silicone or plastic are also available in different sizes but are mostly in black. They are slightly harder than a rubber ball gag. Some silicone or plastic balls have small holes so that you can breathe and also the saliva can run out.
Ballgag in Wooden are rare because the wood relatively hard and slightly uncomfortable while wearing it.
Mostly for optical purpose are ball gags in metal available which are very dangerous for the teeth. For photo shootings these balls are very nice but not for an everyday home use.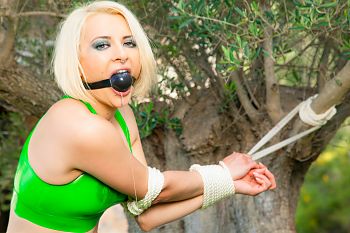 The optimal size of a ball gag is very important because too small balls aren't satisfying for the sub and an excessively large ball can be very painful when wearing from the beginning without training.
Because the size of the ball has a visual and erotic effect for the dominant and submissive partner a bigger ball gag is considered as more attractive. Personally, I love rather large ballgags but this makes a previous training necessary.
How to train to wear a large ball gag?
Training for Ball Gags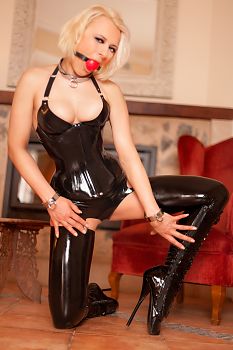 Like any passion it is sometime boring if you always do and wear the same and at some point you would like to increase things for more joy and intensity. The same also applies to the sub who loves the pleasure to wear a ball gag. The ball size is important and parallel to the sense of humiliation wearing a large ball is also associated with a certain pride.
If you don't know much about ball gags or you have never worn before a ball-gag between your teeth then you should start with a smaller ball with about 4 cm in diameter. Just to feel something in the mouth and thereby be prevented to close the mouth, is extremely aphrodisiac but for many people it's firstly unfamiliar and new.
For myself, I started with a slightly larger ball and first broadcast 10 minutes to wear the ballgag until I took it out. I chew a little and after maybe 15 minutes I repeated to wear the ball. I made this in the first day's maybe 5 times a day and could change after 3 days to a ball with 5 cm diameter. But don't fix the size as a direction for yourself. You may have a smaller or larger mouth and take another ball from the beginning. At least you should feel that your mouth is open and stretched.
The jaw gets stretched quickly and with a progressive training it should not hurt. That might be the time to get a larger ball gag. It is a particular challenge to handle the salivation with larger balls which you can't exercise.
Drooling with Ball Gags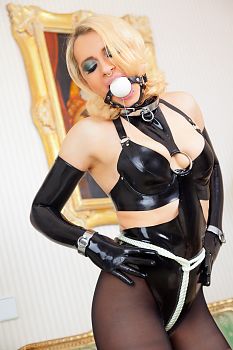 "Help, I drool when I wear a ball gag!" a good friend told me once from a last session. She looked at me and I noticed she felt uncomfortable as she would tell me something bad or unusual. But I was stroking her with a grinning and curiously asked how she liked it. She smiles back and I knew she loved it.
Unbraked Salivation
Of course, she liked the feeling of being delivered to the partner. Every carrier of ball gags closes the lips around the ball. This is instinctive to avoid drooling around. However, the saliva flow is stimulated because of the spread mouth so that over time more and more saliva gets in the mouth.
The ballgag prevented at a certain size to swallow so that eventually the lips must necessarily be released from the ball. Thus, the saliva flows out of the mouth which some people find particularly demeaning.
Humiliation with Saliva from Ball-Gag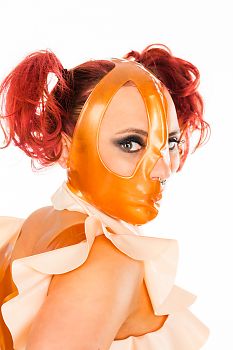 The feeling of humiliation is often exacerbated by the dominating partner who punishes the sub for this "unavoidable misconduct". For example, in connection with bound arms on the back the sub is often obliged to wipe the saliva off from the floor which increases the feeling of helplessness and be on someone's mercy.
From the perspective of a sub this scenario is a beautiful moment of devotion and to be cared for feeling. But you need to see for you if you feel in this situation of uncontrolled flew of saliva a feeling of humiliation or dedication. At least it is important that you find way of passion. For this test you don't need someone dominating.
Take a ball gag for yourself in your mouth and let the feeling flow. You will notice after some minutes that you can't hold the saliva. You begin drooling and you can now see how you like it if you go to a window and give your look public. I stand for one hour in hotel room naked in front of a window in the ground-floor and finally I was very proud for this experience.
Ballgag Playing
Especially in hard or dangerous games in the BDSM scene ballgags are used frequently. The reduction or complete dedication and confidence to the partner are important and beautiful. But also for general lovemaking being ball-gagged can be very charming and wicked.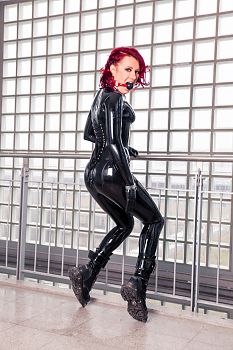 Since the option was taken to talk the partners have to see the body language and hear on the way of moans which works of course still perfectly with ball gag. However, one must bear in mind that speaking in dangerous games has a need like using a safe-word.
Some sexual practices require that the partner know the possible limits to not exceed them. Whips are a common form in the BDSM scene where a dominating partner whips a submissive bound person. The intensity determines by the dominant but the sub can decide if the limit is reached. Therefore, a private safe word is set so that if it is spoken the process must be stopped.
The shape of the passionate devotion can of course also be reinforced with a ball gag or any other gag. The uncontrolled flew of saliva offers both additional ecstasy but here the confidence to the dominant partner is important.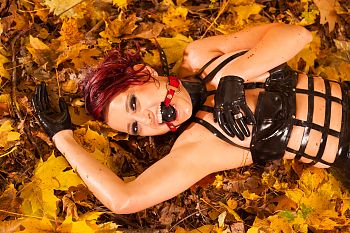 Since the ball-gag prevents the slave the chance to speak the safe word the partner need to see and hear the limits.
Do women like ball gags?
Many of my friends asked me of women seriously like ball gags or if it's just a fetish of men. To clear this up right here: Every woman like every man is different. So yes there are many women like me who like a big ball gag, like to wear them between the teeth while drooling a lot while other women don't like the feeling or the little kind of humiliation.
To answer this seriously complicated question if women like ball gags or humiliation you always need to know more about the person itself. Therefore, I can only answer from my personal feeling but maybe this already helps you.
A ball gag is for me at very first a kinky sex toy and very welcome if I'm very kinky and naughty. In this situation I can't hold by myself and I'm available for everything. Getting in touch with a dominating man I'm a willing toy and go far behind every borders of a usual sexual life.
Personally, I love to get forced to do things which are not usual and while I refuse to be usual I love to get a ball gag. Sometimes, I like a ball gag so much that I moan a lot even if a dominating man orders silence. So a ball gag can be a punishment which might be as welcome as a good clap but also if you go in public the ball gag is a fantastic way of humiliation while getting the arms bound on back and with many dolling.