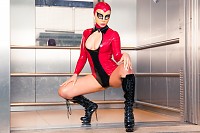 Most of you like this beautiful gloss and the shine of latex as much as the tightness on my body which is exposing so clearly my body and my sexy curves. And yes, I know you enjoy it so much and even this makes me so proud to know that you have pleasure while looking on my like others on the street do as well.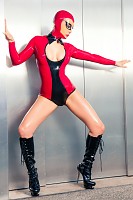 Once, I was chatting in my live chat and spoke with a really cool member. He told me that he loved the mood which he gets when he is looking on my photos while reading my stories. He said that it's an indescribable feeling and passion to enjoy my body which is so well wrapped in this thin and sometimes slightly transparent material called "latex" which made this discussion so cool for me. Oh my, I totally love it to share my feelings and my body with you. It makes me proud because I'm doing sport and love to show me sexy and I love to train hard but also love sweet compliments to let me melt.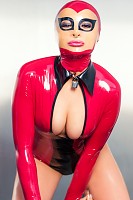 We were chatting for a long time and then he begun to praise the uniqueness and artistic style in my photos which sometimes look so surreal that it gives a feeling that I am a perfect doll. I would be a kinky latex doll and simply too perfect to be a real girl. Well, you know what this made for me? Uh? I was thinking about being a doll, limited to expose the body on a sexy and naughty way but don't give too much personality with my face or my smile.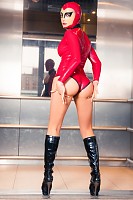 Many weeks later, I got a beautiful latex leotard my Simon O. which was designed for a cool party. I was looking on this cool color and noticed a little later that there was another package. It was much smaller but in the same color and YES, it was a present for me. My very first latex mask and of course I must try it at the same moment. I turn to the see myself in the mirror but I saw someone else. It was obviously a girl with tits and pussy but with no clear face. A shiny latex hood was hiding the hair, the face and many details. It changed me into a little latex doll, fully limited to exposing shiny latex curves and without a soul. It was strange to see me like this because I felt that it was another person who is looking at me but because I could not see her feelings it was just a sexy thing with a hot body. It was a cute baby doll in latex and because the focus was not on the face the sexuality became even more important. Join Now
My face was unrecognizable and I with a stunning shiny silhouette. I don't know if it was just the mask or if the leotard was so sexy but I reminded about the chat and felt that this is the latex doll we were talking about. I liked it how the shape of my body was so sexy and so I could not resist sending my photographer a kinky selfie. It didn't take a long moment and we organized a photo shooting and these photos are the result of it. Join Now
Lara Larsen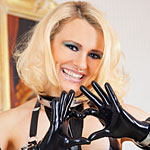 Join Now for Full Access