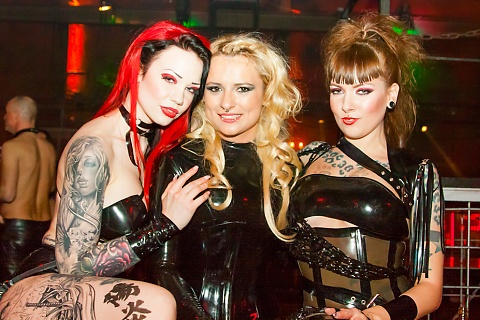 The Fetish Evolution Weekend is full weekend of parties, events and fun for some days but in fact the major reason for everyone to come is the Fetish Evolution Ball at all. So let me tell you know what happened at the Fetish Evolution Ball 2016, what have I done and who I met on this so cool day.
Beside all the fun and the already cool parties the most important reason for everyone was the ball and which was the major reason that so many people, models and designers came to have fun and enjoy an extraordinary and extravagant fashion show. And this year, I wanted to walk for a brilliant designer on the catwalk beside so many cool models. So let us begin with the preparation and how it came to the ball from a models view.
Rehearsal for Catwalk
After a delicious breakfast in the hotel it was time to go to the Delta. The Delta is a huge and very exceptional industrial hall where most varied and most ingenious parties in Essen take place. Old machines, heavy metal and cages are a part of this location what make this place unique and special and simply perfect for a party.
Now, in the morning, in the location was a big trouble and many guys were building and setting up the catwalk and sounds and lights. I wanted to walk for Max of Inner Sanctum and so we were the first group to begin the rehearsal. Max was a little in trouble to get the stage free to walk but after a moment he succeeded and he showed us how to we should present his cool designs.
His idea was that the first model comes on stage and presents the garments from a far distance. Then we walk to the beginning of the catwalk and turn to every direction so everyone has a good view. When every guest saw the model and the latex outfit the model walks back and the next model comes to front. Finally, the whole group comes at the end again on the stage and then show is done.
Well, that sounds very simple but I was really excited and hoped that I would not stumble or that something else is happening. The rehearsal was very good and all were very optimistic that the show will be good as well.
After one hour the rehearsal was over we went back to the hotel to visit the Fetish Evolution Expo. That was also the moment where I should check and see my outfit because Inner Sanctum was presenting their fashion at the fair.
Fetish Evolution Expo
After I was arriving at the hotel I went directly to the fair of the Fetish Evolution on liked to see a cool range of different designers and artists who presented their work. In addition to drawings and photographs there were some known labels Bondinage, Feitico Masks and Marquis and of course Inner Sanctum with many cool outfits. Personally, I was really enthusiastic and also many guests took the opportunity to get a cool outfit for the upcoming event.
Max of Inner Sanctum in a really good mood and made a big fun at the booth. I got two outfits which I should try on. One was a very nice dress in purple latex and the second was a cool leggings with a sexy latex top which became my favorite combination. It was the idea that if something happens until the catwalk then I could take the second outfit. With such a great planning nothing could come wrong in my eyes – but I should be wrong.
After trying the fashion and a cool chat with Max I enjoyed the time and walked over the fair. If you are really taking the time then you will find on each booth something new and what you like and enjoy. So, I also remained a long time on the "Men in Steel" and could stop to enjoy the metal jewelry and toys. Nice shiny metal fits simply excellent to shiny latex and I don't mean this just from the point of view as the model. 😃
The Fetish Evolution Ball 2016
In the later afternoon I talked with some cool friends until I went back to my room to prepare for the party. Once again, I felt many small butterflies in the stomach and I was seriously curious for the big upcoming event.
For this evening, I chose my fantastic latex catsuit from Simon O. with the smoke-transparent stockings and black seam and a black latex body. In combination with my black latex corset which was tightening very well I felt really sexy and good to have party.
But before the party could start for me I was need to go in the backstage area because the models should get there at 11pm for coordinating the show and also preparing with outfits and more. And that was good because a big disaster happened now! I was asking for my outfit and everyone was searching for my leggings and the latex top. The team of Inner Sanctum was seriously irritated and wondering what happened to the outfit because the kind girls were absolutely sure that they packed it. After a long search we found my outfit taken from a model who thought now that her chosen outfits is "uncomfortable" for her and so she thought she can take my garments.
Normally, that should have made me very sad but the alternative outfit was even more in my style and so we were all very happy. Now, I received a gorgeous red latex corset and nice tight latex hot pants. Is there an outfit which would fit better than this combination?
Everything was perfect for me and the big event could come and now the order of the models was fixed and can you imagine who started the show of Inner Sanctum in the catwalk? Yeeeeeeeees, it's ME! I should be the first of all models and walk directly after the show of Marquis. I was so happy and at the same time incredibly excited because I start the whole show.
Many butterflies flied around in my stomach and celebrated a small party. We heard how the music changed and it was clear to all of us that the Ninja Show of Marquis begun. I was seriously excited and so I thought that the show was done so fast that I could not image that we are already the next and I have to begin the show.
I believe that I was in trance because I walked over the catwalk while I could not hide my smile. Later, I heard that many guest totally loved me walk and my cute smile what made me really proud. That was a big success and a fantastic event which I will never forget so quickly.
However, I have to say that the show was over really quick and all the models gone to make some nice group photos of the party. In this moment, I noticed how cool the Delta could really be because there were so many candles and small lights which made a completely different mood as I saw in the morning. Everything was very cozy and atmospheric with soft shines; the music was good and forced me to get back to the dance floor. There were also so many things to see and enjoy because the models like Psylocke and Starfucked were in a so cool mood that we had done a lot of really cool pictures. On the second level of the Delta was a dark mood room with many grave candles and a coffin which was pretty crazy here.
Finally, the VIP area of the party was cool as well because models and guests with special access enjoy the party a little decadent with sparkling wine, fruits and finger food. Therefore, I had to work through the delicious menu before the party could begin at all. I assume that there was a small hunger because of the excitement by the show.
Overall the party was a success from my point of view. In next morning, I already had to leave early what made me really sad and envied to all guests who stay a little longer and continue partying. For myself, I know that I want to be again at the Fetish Evolution Weekend in 2017 and I am curious what will happen there and what I can tell you then.