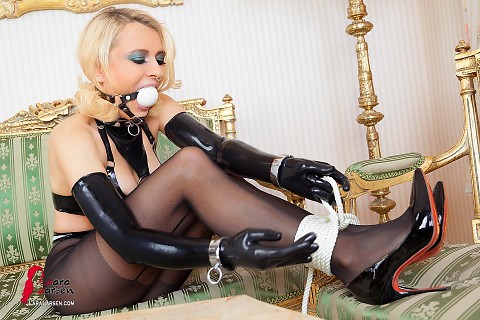 I already think since a longer time that I need to tell you something about my second passion beside latex. Just how can I tell you something of what you actually can't see but should to understand me well? Somehow, I was waiting for the right occasion and now with the new photo shooting "Bondage and Latex" this was done and I don't need to keep it secret: It's BONDAGE!
And when I say bondage we have another problem already because there are many different opinions what is bondage, where is bondage beginning and how far it should go. This is exactly why just my closest friends know about the fetish of me. I can imagine that you already noticed this passion from my side because I was already introducing my cute little red ball gag in some of my photo shootings. Also my hand cuffs or neck collar or also my septum piercing show that I am submissive and love to get lead.
So far, I always wanted to let you take part on my side when I've traveling around, explore new places or cities and have fun in my latex outfits. I love it to share my life with you and also show you how I feel, what I think and like but the time goes on and think that I want to open myself a little more and give you a little more insight in my life.
Some time ago, I had the wish that I will be tied up or thrill myself in an image because the feeling of being "delivered" and on someone's mercy has a very special attraction to me. I must admit that I've not much experience in bondage but now I have started my first photoset and felt fantastic while shackle myself. Chaining with rope is a cool type of bondage what I really like and it gets more and more passion for me. So, to keep always honest to you I have to tell you this little truth because I also want to share these experiences with you in the future.
Bondage for me is a certain type of art and because I'm in everything what is extravagant and alternative and cool with latex, it makes me more than happy. And that is exactly what I hope also for the future. Don't worry about the photo shootings of latex in public in cool cities and places! It is all my live and you will be always a part of it with my stories, photos and videos.
I believe that this mix will make our future here more honest and exciting and you will now even more in the future about me and my feelings … that is the right way with latex and bondage. 😃