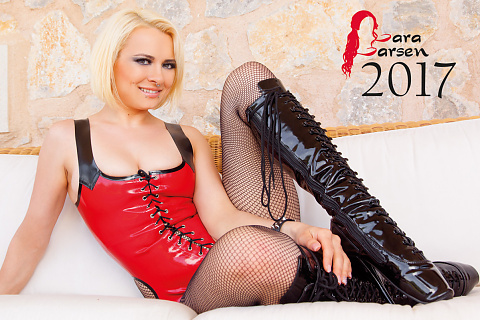 Since I've started my website and travel around to many cities and model there for really sexy photos, my life has totally changed and became more colorful and exciting. "Crazy and Wild" might be the right words! Therefore, I miss sometimes a moment to rest. Maybe that's why I also love some nice traditions in my life such like birthdays, nice parties AND - as every year again - my new Lara Larsen Calendar for the coming year 2017.
Okay it is the second calendar right now but if I was already proud of the last calendar I can't describe my feeling for this calendar. Form all the most beautiful photos which are done with the blond chick in the year 2016 I've selected the 13 really hottest latex pictures for YOU!
The last calendar came in a portrait format but in the year 2017 probably you will have to enjoy me more often recumbent because this calendar is in landscape. And I have to say something like about the quality: Brilliant, Clearer and Bigger! This calendar is in DIN-A3 which means a size of 11.7 x 16.5 inch. YES!
And some words about the pictures? Well, I probably don't have to tell really much because I'm sure you know and love my pictures. Certainly, you have your favorite picture series and I bet that one picture from this photo set is also included my calendar.
By the way, all pictures are selected carefully, so that - in the case of a spontaneous visit - everyone will notice and agree to the artistic value of the photos. Even if we know there is a kinky fetish – just for us. Therefore, I think that my calendar in 2017 can also be perfect in every apartment, garage or in a nice office.
So, if you want to have this calendar as well – take it now. The calendar is limited to 200 calendars!
Get your copy hand signed and personalized in my shop: www.latexshopping.com