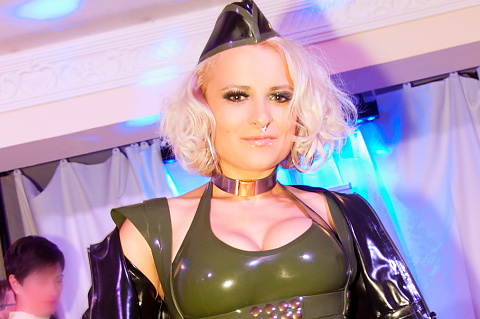 I could describe the latex party Night of Latex Love 2016 perfectly with "great", "fantastic" and "relaxing" ... and I would have said already everything. But maybe you want to know a little more about the party?
For sure you remember the hot flyer: I wore a specially made golden latex dress from Simon O. at the classical place Villa-Barroso in Nossen / Germany. I wore a black latex corset with matching neck corset and combined my black ballet boots. This kinky photo set is known in my member area but had a second reason: Simon O. announces to come to the party to celebrate and a special made fashion show for the five-year anniversary of the Night of Latex Love.
Beginning of the Latex Party
And as the flyer model I was very proud to wear once again my extravagant outfit at the start of the party. I felt like a little star and it was really a great pleasure to be able to talk with many dear guests. This is what I love on this party – partying at a cozy place with some very relaxed people.
At very first, there was not much time for me to present the outfit because I was walking as a model as well. So, I went very soon in the backstage area to get my first outfit from Glanzglück.
Rocky Outfits by Glanzglück
Glanzglück is an Austrian label with totally crazy ideas which are perfectly designed in their cool fashion. Puppi found an outfit which couldn't fit more perfect to me. Tight latex leggings, a long shirt, a small bolero and a little head were matching really sexy with some cool buckles. It was just the right outfit for me! So the music changed – it became rocky -- and all models present the fashion on the small catwalk.
Latex uniforms by Simon O.
The mood was just great and for me the show was too quick over. But this is not true because it was of course walking for my favorite latex designer Simon O. Simon had a crazy but also very brilliant idea. He tailored different uniforms which I've never seen before. He began the show with a creepy mood with sirens and air raids, whereupon we all went on stage with our uniforms. And it still kept an abstract situation because all models wore gasmasks!
A really crazy idea! On the one hand it fit perfectly to the mood and on the other hand the outfit was skillfully staged. For me a really good idea and also the visitors found both shows great and entertaining.
Relax on the latex party
After both shows the tension felt and it was time for me for partying. Because I loved the outfit of Glanzglück I asked to wear it again and show it to all. From now, I found my time to meet many friends and hand over the first Lara Larsen calendars in 2017 and then dancing and talking.
From my point of view, this anniversary party was perhaps the most successful "Night of Latex Love" because this time everything was really perfect. The music was great, the food was very tasty and of course the atmosphere was phenomenal. But as you know – pictures say more than thousand words. So have fun with the gallery.