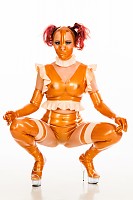 "Do Not Scream" is the name of my new session and somehow I think this name is interesting and suitable. Well, at first you might think that I am such a feminist woman who desperately search for a new topic for conversation for the public so that some smart minds find a reason to argue forever and don't find a good result. You know that would be one of these topics which begin to bother me within some seconds.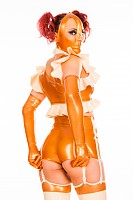 But you could also see "Do Not Scream" simply literally and if you have a look on my photos you know what I mean. Yes, it is of course the situation when I could scream for pleasure in so many moments and as loud as possible for happiness and joy. And yes, you can take this literally because passion and lust is the most important thing in my life.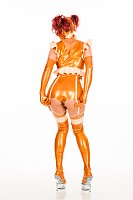 I love my life, my passion, my latex and I stand by it that I could sometimes forget myself when I wear and feel latex on my naked skin. There are countless moments in which I could scream for lust and if it is for the lust itself. Fortunately, clever people invited for girls a ball gag because not everyone wants to hear me in a hot night. You know, for me it doesn't matter what people think but a little back view is not wrong.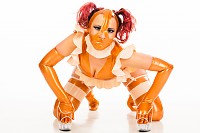 In this last photo shoot, I got this ingenious latex outfit with a unique gloss effect to which this cool latex mask belongs. And what shall I say, being surrounded by many dildos I nearly lost control about myself and was close to get dizzy. Or perhaps it would be more correct to say that I felt in a fantastic dream from which I never wanted to get up ever. Latex on my body, a suitable latex mask and dildos, thicker than my arms, were surrounding me and I nearly felt into a surreal dream world.
Unfortunately, that was a professional photo shoot and so I was forced to pull myself together and keep the cute photo model. No one could imagine what was going on in my mind with all these lovely toys to play. But I was need to concentrate this day because there were many more sexy latex outfits waiting for me to dress on and get photographed. However, this set took me to a nice dream and I would like to invite you to join me. Now, I wish you a lot of fun and pleasure with these sexy latex pics. Enjoy them, enjoy yourself and remember that you "Do Not Scream". 😁
Lara Larsen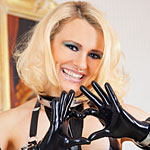 Join Now for Full Access