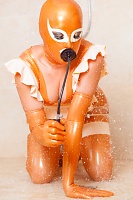 A week ago, I got a call by my photographer and we talked about many great and new ideas where I can pose totally sexy in latex for you. You know how much I love it when I can wear latex and some really kinky and sexy latex photos come up and I finally know you have your pleasure with me. We talked about some really crazy and dirty ideas and at least thinking about such photos let grow feeling for myself with a raising demand for latex right now. So I told about these feeling and about my wish to get under the shower now while wearing latex like a kinky rubber doll with a tight face mask.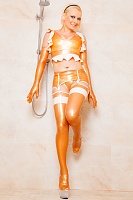 I'm not sure why I told this my photographer but took the situation and imagined something very sexy from my words. Finally, I was so excited that he ordered a photo shooting right now and I agreed because I was sure would love to be so close to me in such a private moment. Yes it was a cool idea to show you a little bit more about me and my private passion for latex. And if plan to have a latex fetish session why shouldn't you be a part of this little fun? The only thing for people to split private and public live is to keep something secret but in my case I think you know you share so much with you that there is nothing else then the real Lara Larsen where private and public live is one and the same.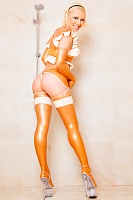 Latex is a fantastic material and so versatile. Latex is as clothing always sexy and because latex simply feels fantastic it is also a delight for my senses. If latex is also a little translucent, it's still a crackling erotic in wearing this material and that makes a photo shoot always exciting and edgy.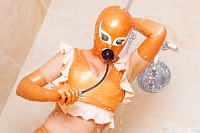 But on this day I wanted to have latex all to myself and around me and my body. I took to a small thong, gloves and stockings a matching latex mask to this semitransparent outfit. Such a mask is something very disreputable and when I wear a latex hood I always feel like a little freak. There is simply no denying that wearing a latex mask in this form is far more than sexy latex fashion. A friend humiliated me once as he said a latex mask makes a latex girl to a useable latex doll. I was thinking about it and then I agreed and I felt proud about his fact. It is sometimes that you feel something but you can't describe it but if someone tells you the truth you can fully agree. In fact, a latex mask is just a piece of clothing that is not really a clothing part but or a plaything and something to be playful –imagine this makes me feel really good.
However, while knowing what others in the photos or my photographer would think about me I was happy to take my kinky fashion and also the latex mask. I wanted to wear latex all around me and take it with all my senses. I wanted to smell it, feel it, see it … and there something more. I told my photographer quite gently: "Do you remember that I bought an inflatable ball gag some time ago? Well, I have worn it often for me in the past and would you allow me to wear the inflatable gag in the shower in my mouth while pump it up nice and snugly?" Of course, my photographer had nothing against the idea to take a latex gag in my mouth. It was so gentle that I could also taste latex that I pumped it up very well and show that I am a good girl. Well, maybe I am a kinky girl but I'm sure it is nothing new to you. So in retrospect, I am very proud that I can show you these images and I hope you can tune into the latex passion once more and feel pleasure with these photos.
Lara Larsen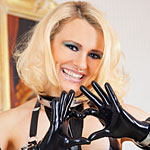 Join Now for Full Access