Fashion is something special to many people. While, for some, a shirt or some pants or a skirt are just practical, everyday clothing – just a way to not be naked – there are plenty of people who find fashion a way to express themselves – me included. It is a way to let a little piece of the real me be seen on the outside. I love to put a little thought into what I wear and how I look and latex is a big part of my wardrobe – not just for photos and fetish clubs, but even just for sitting at home or going shopping or out for a drink with friends. I am more often wearing latex and there are so many designers who make some gorgeous latex clothes; some chic and sophisticated, some sexy or even slutty. They know how to take something so simple in the vanilla world and make it something really special in shiny rubber. Latex leggings are a great example because of the way it hugs your body nice and tight. With an expert cut they can be made to plunge into my butt and reveal way more than vanilla leggings ever could, and at the front there'd be a clearly visible sexy cameltoe – that makes me feel very wicked and naughty.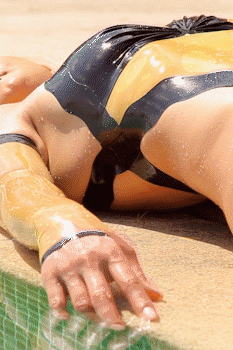 Latex swimwear is another line where latex fashion can make it a little edgier, funkier, sexier … out of the ordinary … and it doesn't have to mean a basic one-colour swimming costume made of rubber! Cutting and gluing in expert ways means some amazing designs, patterns and colour-ways can be created. Amatoris is a designer from Ziesendorf, close to Rostock on the northern coast of Germany, who took up the challenge of latex swimwear six months ago and added a cool latex swimsuit to his collection. He sent it to me in the middle of winter and I loved it and desperately wanted to show it to you, but it was way too cold to try out. It would not have been fair to have such a wonderful piece in just a normal set of photos indoors, so I have been impatiently waiting, desperate to wriggle into it ever since, to do it justice in the sunshine and by the pool. And now the time is right.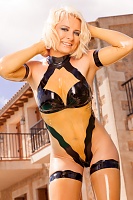 It is completely different to anything I've tried before. Made of very thin transparent rubber, it has a thick black band outlining its sexy shape, with a wavy edge to add striking detail and a bandeau-style bust. It fastens tightly around my neck like a collar – and I LOVE wearing a collar. To have this feeling around my neck all the time is very sexy, like I have been naughty and collared as punishment. But the sexiest part, I think, is how it is cut at the hips. It is so high, way above the waistline, that it gives such a sexy look to my legs. The design pulls the latex up tight at the front, and into a very high thong at the back. When I am wearing it, every time I move I can feel the latex between my legs, pulling and sliding over me, turning me on and making me feel wonderfully sexy and slutty.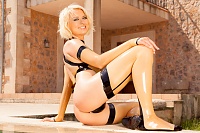 I even though that I can team it with a pair of jeans and heels for a night out, so it plunges into the waistband of the jeans and shows as a sexy thong at the back. I love how you can see through most of it – you see my belly button clearly so I'd feel quite naked and naughty out in a busy bar – but I am still nicely covered in tight, shiny rubber, which is a feeling I love so much.
But that is for another time. For the special shoot by the pool that I proudly present to you here, Amatoris completed the outfit by sending me some beautiful matching transparent latex stockings and gauntlets. They are made of the same very thin rubber with the same wavy-edged black outline as the latex swimsuit. The sexy gauntlets run right up to my shoulders and the long stockings have gorgeous seams, which can be tricky to get nice and straight – maybe I need some help . Because of the very clear, transparent latex, using talc for dressing is not possible. I know some people like using talc for putting on rubber clothing, but I have to admit I much prefer using lube anyway, and it is a must for this outfit. You can even see my shoulders and bum shining with lube where I have pulled the swimsuit up.
For me it even feels wonderful just putting the lube on, carefully coating my tummy and boobs and my legs and ass before stepping into the latex swimsuit and easing it up over my body, tucking the thong between my butt cheeks. Then, one by one, I carefully roll up the stockings, making sure I don't damage the very thin rubber with a nail, before I point my feet and gently slide into the stockings. I love how the latex slides on with stockings and having my feet sealed inside, feeling some of the lube as I wiggle my toes. I know there are some people out there who really find this very kinky – I hope you like my feet in rubber Looking down at them in these stockings, it is very sexy to think they can be a turn-on – imagine my feet all shiny and slippery with lube and polish, sliding out of my sexy clear platform heels and maybe I can use them for … I'm sorry, I'm getting carried away *giggles*
Of course, most people are probably not interested in my feet but maybe more T&A - tits and ass I love how this latex swimsuit shows off my ass with its high-cut thong. I can't hide much in it – even most of the parts that do actually cover me are see-through – so I was worried that maybe it was too much, too risqué. I asked my photographer if it isn't a little bit too kinky but he said it looked damned sexy and: "Isn't this what you love, Lara? Don't you feel good like this?" I blushed but had to admit he is right. I love looking hot and having people look at me – it makes me feel all naughty and slutty. I couldn't resist showing you my butt in many of the pictures, so this shoot is maybe quite ass-related. I hope you don't mind too much. 😜
Lara Larsen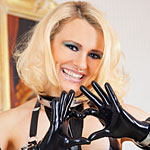 Join Now for Full Access