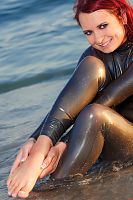 In this summer I visited the Turkey with so felt 115 degree temperature. Obviously, it was unimportant if I wear a latex bikini or dress because I would sweet whatever I wear. That was the reason why I was mostly at the beach and cooled me down as often as possible. And because I can't life without latex it was still the best to be "wet at the beach" and relax on these days.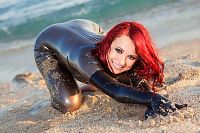 On a very hot day I had to drive to the city Alanya because I got a request to write about this place. No problem at all and a good reason to make some photos for my Where-Am-I game. And because it was unimportant what I wear on such a hot day I chose my shiny silver latex catsuit. What can be cooler than be fully wrapped into latex garments?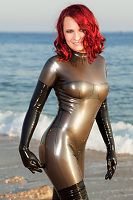 So, I walked through the city and made a lot of beautiful photos. And even there was air condition in the car it was still very hot… and you can trust me I was not the only reason for the global hotness. But what can I say; the whole attention was on me while I was wearing latex in public.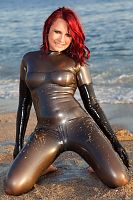 Yes, of course I know that wearing latex in public guarantees me any attention but that's exactly what I love and wish. All people stare at me, smile to me or explore my female body to get a perfect view on my private parts. I think that if I would be naked the attention wouldn't be as much as I have with latex fashion. What a hot feeling and what is always sure: Whoever I ask about a place or event I got always kind and friendly responses. Most guys love to chat with me, want to drink a tee with me, ask about my look or that no one saw a cuter girl than me. *giggles*
After this trip it was time to do something what I love and like. I drove to the local Cleopatra Beach here in Alanya. It's a beautiful beach which was nearly free because most tourists were already in the hotel for diner. That was fantastic! I LOVE water nearly as much as latex and so little latex was "wet at the beach" and cooling down from this hot summer day. And as a lied at the beach with my shiny latex catsuit I enjoyed the situation so much and I was so happy that I swore by myself: The weather doesn't matter at all – I always wear latex and LOVE it.
Lara Larsen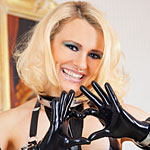 Join Now for Full Access