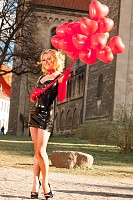 The Valentine's Day is coming and as I know it from good friends this is a good reason to give a thank you to these so important people with hope they get a small or big smile. And the most important people for me are my members on my website. As a member you give me so much trust, reasons to share my passion and much more. Maybe it sounds quite theatrical and this shouldn't because I think it is so serious for me.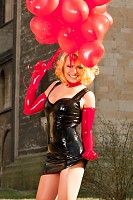 About one year ago I've started with my website and begun to make photos while I was traveling around in cities. It is a big fun for me to know people who share the same passion for latex and share my sexual orientation. The project begun to grow slowly and I got kind contact to people who shared their thoughts with me and of course this influenced me to make more naughty stuff and other photos which I am very proud about. You support me in various ways and this makes me so happy and motivates me.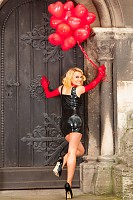 On this day, I was in Naumburg, a smaller city in the middle of Germany and I was visiting the local Cathedral of Naumburg which really surprised me. I've heard something about this Cathedral but reality it was much cooler. And as I was here it was the right moment to thank YOU at this place with a lot of hearts and wish you a beautiful Valentine's Day.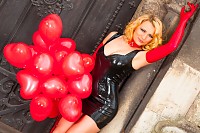 I am wearing this really beautiful black latex dress from Jeromie (Fetish-fantaisies.com) which I really love even it seems to be a little naughty like me. It loved to get up with every step I was walking and exposed my pussy and my bum. *giggles* Anyway, it was the perfect contrast to my red latex gloves and these sweet red heart balloons. You know, I'm totally into chic contrasts and so I had to add something kinky. My new red leather collar of rabenleder.de was the right detail. This was my small contribution to the outfit to make it a little extravagant because you know that I don't like something boring and usual. Join Now
And so it comes to the biggest change from this photo set: I got blond!!! So, if you fallen form your chair - please get up again and check again my images a little closer look. You know, I really loved my red hair but after so many others followed this now existing "trend" I decided be different again. By the way, blond is the only color which I never tried before and I think that it is really sexy. So, I hope you will have much pleasure again with my beautiful latex pictures and please find some kindness in your new blond latex girlie. Join Now
Lara Larsen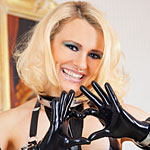 Join Now for Full Access