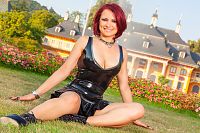 This summer, I was the cover model of the latex party "Night of latex passion" in a small village near the city of Dresden. The day was just right nice and wonderful to walk in latex. That's why Mario, the party organizer, all offered the great but also the crazy idea if we want to go together to the Castle Pillnitz. Of course, not in street clothes but dreamy nice latex.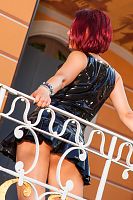 You can certainly imagine that I love this crazy idea totally. Not because I could wear latex in public and to be excited to expose myself in that lovely latex to everyone to look. You know for yourself that I always do this and love it so much. No, I found it great that Mario could motivate other people to go out in beautiful outfits and let us visit together an interesting place. And the Castle Pillnitz is seriously something special.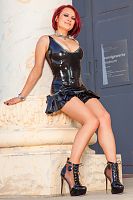 It was acquired by elector Johann Georg IV. in the 17th century and was given to his mistress Magdalena Sibylla of Neidschutz. Alone they should have had a very pleasurable sex life. Maybe it can also be possible that with the new built place against the mirror image of the water palace in 18th century the pleasure garden was done and if you know the older history these pleasure gardens were not only to nice theatre performances. That was certainly also an exciting time but for me something very important would have lacked since at this time: latex or more exactly latex fashion and teasing pleasure.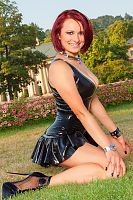 I cannot imagine how it would be if I couldn't feel this soft and gentle material on my naked skin. Certainly, I could be a lover from other great things that I would love, and yes even today in these days I love corsets and high heels for example and my master love them too,he loves to cum into my heels all the time and look me walk on his creamy pleasure... But still I am happy to life in this beautiful time "today" in which you might be a little stranger if you're in a tight mini dress made of latex within a pleasure garden but overall many see and think it's cool and sexy and like it and feel desired from all the eyes on me. Join Now
And I am sure you agree that this dress is pretty cool and sexy and a real eye catcher. So now I wish you plenty of joy with these photos and hot video... and enjoy these beautiful rays of the sun. Winter is coming out with big steps and some hot pics can give you all the effort that you need. Join Now
Lara Larsen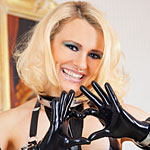 Join Now for Full Access