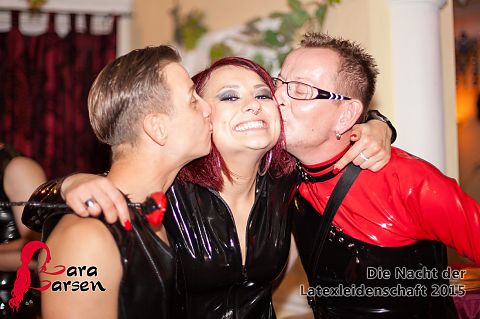 I've already heard a lot of good about "Night of Latex Passion" but never tried this party. Some praised the atmosphere and others the familiar and comfortable place in the Villa Barocco in Nossen, a small town near Dresden. I got very curious about the party but then I was surprised by the organizer that I got the flyer model for the party. So now I had and good reason to go.
Whenever I can wear latex I life out this passion and as an independent journalist it is possible for me to do it daily. I was only very rarely at such parties with a demand for a dress code like latex fashion. I don't know if it is the curiosity which made me so exciting but a real party with people who share exactly the same passion was cool. So finally the 17th October 2015 was the date to visit the party not at least because guys who I know registered to come and it was great to know that I could meet some guys in person.
I made myself quickly chic and went with my photographer Norman Richter to the party in Nossen. On the way, Norman told me about some crazy photo series which I found insanely exciting. I admire him for his great ideas and I think that he just told me everything in details to distract me a little because I was already a bit excited.
Some very nice and lovely people had announced to come that I got really curios and also the nervousness was getting bigger. Of course al self-critical questions went through my head whether I really had thought about everything, if my makeup is nice too and is my outfit and look sexy enough.
After about an hour drive we arrived and had some troubles to find a free parking space. So many visitors were already there! I quickly searched for my calendar and my cell phone pockets which I wanted to present at the party and then it went quickly in the Villa Barocco. The name sounds a little more than it because from the outside it is rather a big house. However, in the inside it was simply overwhelmed. A cozy light, great music and a very relaxed atmosphere were just the first impression and so felt right off the bat really well.
Mario, the organizer, was personally very welcome to me and it made me pride that I was on the flyer for the Night of Latex Passion in 2015. Also many guests seemed to feel very comfortable and conversed relaxed. I was so overjoyed that the party time passed like in flights. There was simply no time for boredom.
Everyone smiled and glistened in stunning latex. For me, it was a very special highlight to be a part of this great event and community. We talked about many things such as (surprisingly) latex since the first fashion show started. Beautiful designs by Erik Rubberik.at, Puppi of gloss happiness and Hansi from jazzyfashion.de from Vienna presented their latest creations and I was enchanted. I could try just each outfit because the ideas were really great.
Actually the delicious food compelled me from thinking about where I could wear all these cool latex outfits. But a fragrant roast with salad invited me to be eaten. So was enjoying the great food with a stimulating conversation about the play rooms in the basement. I learned a lot about the vacuum beds and also a cube made of latex where someone can be included. Even I could not really imagine about this cube and the bed I was crazy enough to please everyone to play with me. 😃
So, I found myself a few minutes later Marc and Daniel in the basement and everyone saw my sparkling eyes. Many exciting things like whips, chairs with shackles and much more for what was unfortunately not the time to get used well. But in the middle of the dark red holding room was a half-transparent vacuum bed which was inviting us to play... and when it comes to playing, then I'm doing!
Marc showed me how to get into the bed and as he was so beautifully wrapped in latex there I was totally antsy to get myself into this vacuum bed. But at first I wanted to see how it feels if you have the control about a person in latex from outside. To say it in one word: Awesome! It was an experience with someone to play with but the most exciting part was to get myself in this latex bed. The feeling of latex all around me was outstanding and can't be described. I was overjoyed when they put me in the vacuum bed and I felt 100 hands over my body touching every part they want and I could not move or do anything against. I was fully abandon the welfare of others to be able to... that was just insane and a dream come true.
For me, the Night of Latex Passion was a really great and cozy party and if you want to experience a relaxing evening with latex and enjoy it I highly recommend you this party. For me it was a pleasure to meet many great people and want to thank everyone for such a great time and talks. Here are a few pictures so you can have a small impression of the party. Have fun! Laraaa 💗