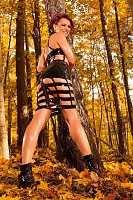 At the moment, I probably have the coolest job in the world. I can consider and choose what I'm writing about and select the place I wish to. After a brief Internet search I found a dreamful castle in which I sure would feel like a slutty princess. I'm talking about the Castle Moritzburg which is in the vicinity of Dresden and is somewhere which will stir the immangination.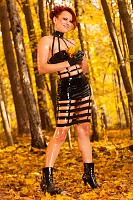 When I arrived after a long car ride I was a little sad and disapointed. I had imagined the environment like in a fairy tale because the castle is on a small island which is located in the middle of a small lake. Unfortunately, I didn't know that they already drained the water so that the Castle wasn't looking so fabulously like I wanted to have it.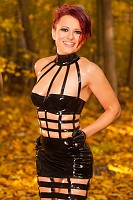 Well, it can't be always perfect. I sucked my sweet which I must always suck if I must ponder and then I had the idea: I saw on the road to this castle a magnificent avenue that shimmered in the sun and especially in the autumn in most beautiful colours. So that was now the place where the new photo set should be done with hot images and a sexy video... that makes me excited and horny at the same time.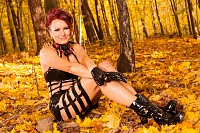 I was already wearing my hot latex dress and as we had made the first pictures I was so excited that the result were much better of how naughty and sexy the shoot was than the castle would of been. Nowhere, I had such a wonderful colour game and I liked it a lot. So I finally got my photoset as a slutty princess. Okay, not the princess in a classic fairy tale but a pretty pleasant slutty princess from a beautiful forest....completely wet. No panties exposing what you want to see so let yourself be enchanted.
Lara Larsen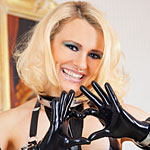 Join Now for Full Access