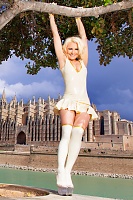 Many German tourists connect with the beautiful island of Mallorca exactly one place: L'Arenal. Once, it was a small fishing town but in present many tourists see here unrestrained drinking games, late nights and the chance to have sex for some time at the beach. The beach bar "Ballermann 6" became the main attraction and the reason for many Germans to visit this island just to be a part of the drinking tourism with loud music and a lot of fun.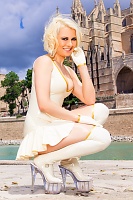 The governance tried to work against "bucket drinking" and the well-known loud party music. I'm a party girl for myself so I can't judge in that way if it is good but to be honest this island is more and that is why this gallery exists.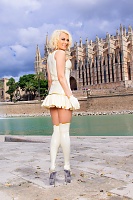 I'm in front of the cathedral "La Seu", the symbol of Palma de Mallorca. In any good guidebook you can read a lot about this cathedral and it is really worth to visit - especially in the early morning. The cathedral is now over 800 years old and impressed me because of this gigantic size and appearance. You see on many postcards the "Cathedral of Saint Mary", as its mostly known, and photographed from the beach promenade of Palma. So that was exactly where my pictures are done as well.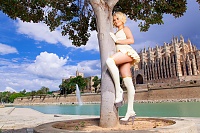 For me, it is super exciting that they worked on the cathedral over the entire time of 800 years in all epochs what you can see in this building. I mean you have to imagine that someone laid the foundation in the year 1230. Maybe, he had a clear idea in mind of the look of the cathedral but this project is not done by just one human being and so the first builders died a long time before they could see or imagine what will one day stand at this place for real. But so new generations came with different ideas and concepts and they worked on this project with the base but with different ideas for the next steps. And now you should think about this little fact, that the main facade was completed in the 20th century! For me, this is totally unbelievable that such a project was growing over such a long time. Honestly, I am very impatient and can't wait to finish a personal project for not more than some month.
But of course you might be also interested, beside all these cool fact, what can we do today, right? Of course, I wanted to do some kinky photos at this tourist attraction with latex in public. You know, that latex is fashion and indeed the most advanced form of fashion. Latex is tight, modern and incredibly sexy and fits exactly to the present. And in these pictures I love the contrast of modernity and the past. Probably, every latex outfit would fit here but I chose this sweet white latex dress from Latexa. It has this extra naughtiness and happiness and makes it fit just great to me. So have fun with these cool photos.
Lara Larsen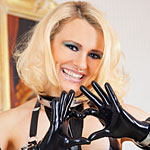 Join Now for Full Access