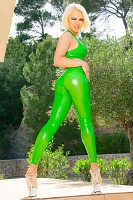 What did I thought and made today. I am by nature very curious and so I could not resist following this offer. It sounded so good when I was invited to play in the backyard with friends. He spoke so beautifully about a day with grilling, lying in the sun, relax and if we want and have time we can play something. What sounds wrong if you hear about such a sweet invitation? Nothing at all and that's why I said YES. Perhaps, I should ask because he said casually that I can wear something obvious and sexy like latex fashion.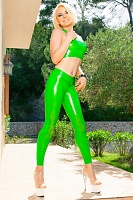 I looked forward to the date and put on my bright green latex leggings with the matching top by Simon O. I just bought this combination for the summer and was incredibly proud because I never saw these clothes worn by anyone else. The latex felt really good because it was very soft and smelled absolutely delicious. For the kinkiness the latex leggings had this special camel toe cut to show more my pussy which was already an eye-catcher but the latex is also slightly transparent so I was looking a little filthy but also sexy with these latex clothes which was perfect for the evening.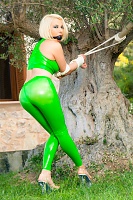 Of course, I was the only girl in latex fashion and because I love to show myself the evening started really well. We ate well and drank a lot until my friend spoke the idea that the boy may play poker and the girls have to follow the winners wish. The atmosphere was totally omitted and disinhibited and because I know such games mostly that the girls have to take off all their clothes. Now, I was just wearing my latex leggings and the latex top so it would be a short but funny round for me. Surprisingly, it came very different.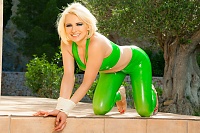 Most of the men focused on me and so was the first request came from a man who asked me to move and pose sexy for his mobile phone camera. Everyone knows my business and my website and so I expected such a question. Fortunately, I was not inexperienced and so I could spice the party while moving a little more lascivious with spreading legs and showing my shiny ass.
The next winner confessed that he has a weakness for bondage and submission and so kindly asked as his wish to bind my hands with a robe. Did he know my personal preference or was it just a coincidence? Now, the sexy modeling became difficult but I was a good girl and played the game with motivation. However, the same man won again and continued his wish and let tie my arms with another robe.
I didn't noticed where the ball gag came from but I just heard someone shouting "Lara should get a ball to play with!", and as I noticed what he was talking about I felt a big black ball gag between my teeth. At first, I was honestly a little surprised with this situation because I came to a relaxed barbecue. But then things became clear for me and I was sure that my friend told everyone about my naughty lifestyle. I realized that everyone was excited to see the latex girl who loves to play such games and now all the cares got away from me. I was drooling with the ball gag and sat on my knees to wait the next orders from a next winner.
I am who I am started to enjoy the game but unfortunately the guys wanted to finish the game. So the last winner let me bind to the tree so that I can be a good object to see and enjoy. Unfortunately, I couldn't take part for a time to other games while I was tied to the tree but it was more relaxing as it sounds for now. Some guys came to me and stroke me kindly over my head which I answered with moaning. I think they liked me in that pose and even I thought they would like to see me naked it was clear there was no need for. The transparent latex exposed everything from my body but put it in a nice color like a delicious gift for their eye.
Outfit: Latex Leggings by Simon O.
Lara Larsen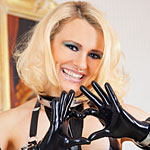 Join Now for Full Access