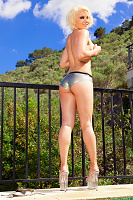 It's cold and snowy and icy outside and it makes me yearn for some warm and sunny days. I love the summer but it seems so far away right now. I decided to warm myself - and you - with a look at a shoot I did last year, reminding myself of that lovely warmer weather. Dressed in a new latex bikini from Simon O, I was at my friend's house enjoying the pool. Hot sun feels fantastic on latex, intensifying the feeling of the tight, shiny material on my skin. It even makes it smell more, and I adore the aroma of rubber. The only drawback, of course, is that you can't help but get hot and sweaty inside rubber in the sunshine; but then I don't mind that 😉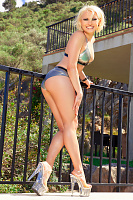 It was such a hot day, though, that is have been too sweaty in a catsuit: you wouldn't want your Lara melting, would you? So I slipped into this lovely silver two-piece for a spot of sunbathing by the pool. Of course, I can't wear a sexy latex bikini with any old shoes so I slipped on my whoreish transparent stripper heels so I could totter around to my sunbed. Laying back and feeling the sun on my skin, the latex sticking to my tits and ass, I was happy to pose for my photographer, to pose for you.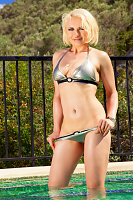 I felt so relaxed and comfortable that I started to play around a little, spreading my legs, feeling the tight latex slip between my ass cheeks. With my high heels and the baking sun I felt very naughty. I moved my hips, wriggling against the rubber, and enjoyed the sensation as it slipped between my pussy lips. I let my hands wander to my tits and played with myself a little, almost forgetting that I was on camera. It wasn't long before I was feeling very hot and horny and needed to cool off in the pool.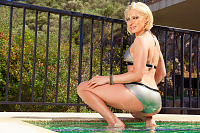 There's only one better sensation than feeling the sun on tight latex, and that's feeling the cool water wash over it. As I stepped into the refreshing coolness I could feel the water leaking slowly inside my bikini bottoms and the cups of my bra. My nipples were instantly hard and as I lowered myself in, the cool feeling on my pussy made me gasp out loud - my photographer actually asked if I was ok *giggles* Soon I was swimming around cooling off, loving the water pressing the tiny rubber bikini against my body. It just makes me wish for summer even more 😃
I hope you like my sunshine set and I hope you're looking forward to the warmer weather as much as I am 😃
Lara Larsen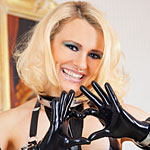 Join Now for Full Access