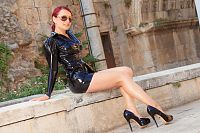 As you know I need to travel frequently for my occupation as a journalist and editor. Also, my stay in Turkey is no exception. I got the offer to meet up with a reporter of a TV channel from Istanbul for an interesting interview. Unfortunately, I can't tell you much about it but I think you don't care about it. 😃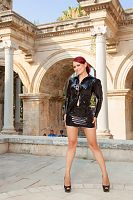 For this meeting, I wanted to be dressed as chic and elegant as possible. Therefore, I took my black latex blouse and my latex mini skirt. I drove with the taxi directly to the old town of Antalya and went to a bar to the meeting point for this little interview.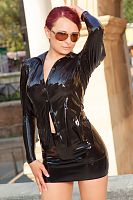 Once there, I was overwhelmed by the Hadrian's Gate. The Hadrian's Gate is also known as the "Three Gates" and was built by the Roman Emperor Hadrian almost 2000 years ago. I had read that there is also a great sage. Accordingly, the Queen of Sheba walked through the Hadrian's Gate as she visited the holy Suleiman, King Solomon, and had only happy days spent in Aspendos. So, what do you think did I done if the fortune is so close?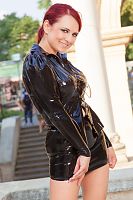 Of course, I jumped like a little girl through each gate and ran all over again through all three goals. I was totally happy because I found the situation funny for myself. I mean, there is a girl dressed in latex and high heels and perfect for the interview and jumped like mad through the gates ... and of course it had to happen then. When I came out behind one of the arches a smiling man and I knew that he had been watching me all the time. Join Now
That was an unusual but very funny opener for the interview. You know it's mostly so, that the first moment is certain inhibition in conversations, especially if I'm certainly a bit unusually dressed in latex. But while my small fortune activity the ice melted at once and we laughed quite a while ... and I learned totally exciting things. 😜 Join Now
Lara Larsen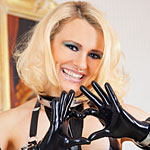 Join Now for Full Access