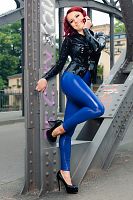 Some weeks ago I wanted to visit a good friend of mine and my photographer Norman Richter was so kind and drove me through the city. I remember very well how I enjoyed my look in my black latex blouse my Simon O. and my tight blue leggings by Crazy-Outfits.de. It wasn't latex but fitted perfectly to the blouse.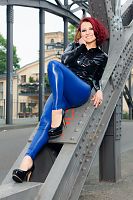 As we nearly arrived I noticed a big very impressive metal bridge to my side. What a fantastic massive building with long arcs down to the floor. I have no idea why but I liked the bridge even it was not a special building. Maybe it was because I felt very sexy so I thought about all things what can be done on this bridge right now.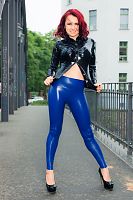 My photographer who I obey looked to me from the corner of his eyes and begun to laughs on a very different way which I didn't know. Immediately, I blushed because I had the feeling that he could read my naughty thoughts ... or am I so easy to see through? Fortunately, I had the spontaneous inspiration to divert that I asked submissive "Sir, would you like to photo shoot me here?" I asked as kindly as possible but with the sweetest and cheeky smile because I know that with all dominance of the Sir he couldn't resist my smile.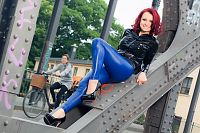 Honestly, I asked just to divert from my naughty thoughts but I didn't thought that Norman would really stop the car and drove back to the bridge. Like a little girl I played embarrassed with my fingers in my hair and tried to show that it was exactly what I wanted to do on this bridge. But deeply I was totally excited. What if my photographer could really read my thoughts and planned to play with me? And if he wants to play with me what would he like to do? Join Now
In this moment and with these thoughts I relaxed again and lay back to the seat. I touched my arms well wrapped in latex and I was ready for anything… wasn't it exactly what I always want? And even I didn't know what would happen at the bridge I was happy for this moment. Time to play? Time to photo shoot? Anything else? I was ready. Join Now
Lara Larsen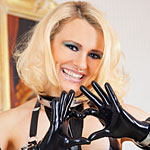 Join Now for Full Access