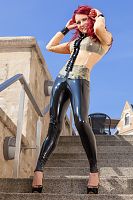 This time I've done a photo session in Halle and that was more surprising as you would imagine. I was meeting a good friend of me. She studies art at the local university and she needs for a moment my ideas. As we finished I was curious about this city and because she lived here for a while she was a perfect guide for me. So why shouldn't I use this chance?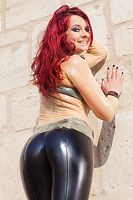 Honestly, I was not prepared for a city walk. I didn't know much about most interesting landmarks here but this problem could be solved with the recommendations of my good friend. But in fact after a long winter I was so happy about the first sunbeams that I took something more thinly to enjoy the day even it was still cold outside. Normally, I don't need something warm if I know I meet someone to drink a coffee so I thought my new transparent latex blouse would be a good choice to catch some eyes on me. As something perfectly fitting I took my new black latex leggings by SlinkyStyle. It's a special cut which gets into my cheeks and makes a sexy bum and camel toe. Oh damn I felt so sexy and I was sure everyone would love to enjoy the gloss and curves between my legs… oh my, that wasn't planed that way.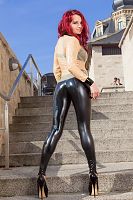 But hey, I'm not that often in Halle and I also don't have a cool guide on my side who knows to handle a camera. So "come on" I thought, let's go around and visit this little town. At least some landmarks like the market place and the local church or the red tower should be visited.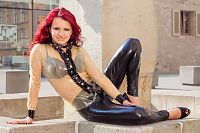 Finally, thanks so much for this so cool support and also that you made the beautiful photos. The outfit was a perfect choice and even I was the attraction in the town I'm proud that these photos got so beautiful and sexy. I'm happy to share these photos with you and hope you enjoy the look as well. 💗
Lara Larsen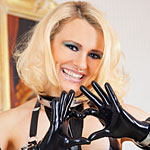 Join Now for Full Access