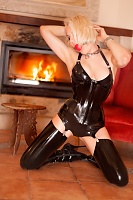 The relationship to a dominant master is something very special. The entire women world speaks continually about determine themselves but this also means many of the tasks, duties and shall belong to the person itself. Precisely, the subject of money is for many of my friends a big issue and it is a reason why I am very proud to be a girl who is serving from time to time a master.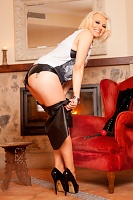 It is, to be honest, not a relationship of love as we all know it in the classical sense. My master supports me in my projects, my dream of modeling and takes all my problems or concern. This is such a nice feeling that I can concentrate entirely on things that I really love to do. Of course, latex and the latest latex fashion is an expansive passion and I am proud to be able to life my dream fully.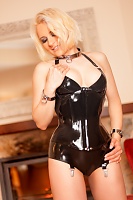 However, if the master calls for me I have to obey! "There is nothing worse than if there is something more important than your master", a girlfriend told me once. So, when I received a call I got picked up immediately and drove to my apartment to get a shower and make me sweet. Finally, I always want to leave a good impression and because he loves latex as well he sent me last week nice latex lingerie and that was the right fashion to wear for him tonight.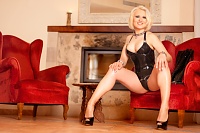 When I arrived in his splendid villa someone told me that the lord was coming shortly. I was very curious to know what he planned to do today. The last time he took me into a restaurant with a beautiful latex dress. He gave me a ball gag and so it was not able to eat something even it looked everything so tasty. Fortunately, he used me later very well and made me so happy because he was so proud about me. Now, I was glad to see him again but I was disappointed. It was told that he is still in a conversation but I should make me comfortable.
So, I sat down in one of the big ears chair in front of a beautiful fireplace. As I got back I noticed something on the chair. There were black latex stockings and ballet boots. Did he know what I will wear as underwear? At least it was perfect and it was clear to me that he was awaiting me to expose myself in this full sexy suit. I didn't hesitate and took my shirt and my leather skirt off and took the stockings and ballet boots but also put the ball gag in my mouth.
It was a nice feeling for me to be available in latex. The ballet boots look so hot and even if it is incredibly difficult for me to walk I am very proud to wear them. Also the ball gag gives me a good feeling because I know that if I take all these challenges the night will be a success for me as well.
Lara Larsen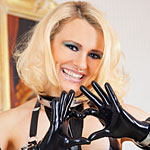 Join Now for Full Access