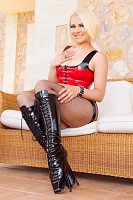 You know by now that I'm always wearing latex in public 😃 One of my favourite things to wear is a leotard - you know, like a one-piece swimsuit. I wear one with shorts, a skirt, under jeans or even under a dress to give it some layering, and often I wear one on its own to the beach. It's just so practical! With latex being so tight, if I wear a rubber top then it tends to ride up all the time and I have to keep pulling it down, but with a leotard I never have to think about this because it is all-in-one: panties and top combined 😁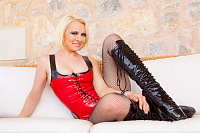 Now, many girls might find a leotard - or bodysuit or one-piece swimsuit - uncomfortable because it can still move a bit while you wear it and, well, when it rides up but is held in place between your legs ... you know ... 😃 How many times have you seen a girl pulling her swimming costume out of her bum?! 😃 But for me, being very kinky (and a little slut *giggles*) this is a an added pleasure 😉 I love the feeling when a leotard cuts into my bum and pulls into my pussy: it can get to the point where I really feel it rubbing when I walk, and if I wiggle my bum a little and move in a certain way I can start to really get turned on by the friction and ... Well, let's just leave it at that for now, OK?! 😉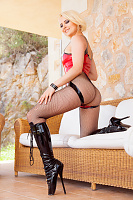 So this photo shoot and high-res video are all about a leotard - but this is a leotard with a difference. This one I definitely can't wear in public at the beach!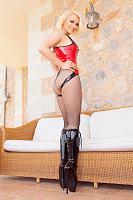 It's not because of the black lacing all down the front, a perfect sexy contrast to the shiny red rubber.
No, this leotard is different because of the cut. I have some that are high-cut to give a great look to my legs; I have some that have a thong-back to show off my sexy ass.
But this one shows off my butt COMPLETELY! It is a buttless leotard! In this, my butt is totally visible to anyone 😃
I remember it was bought for me for "playtime", and it gave me an obvious cameltoe and a totally naked bum (so my sparkly butt plugged could be visible *giggles*), but most of the time it hung in my wardrobe.
I did wear it a couple of times for parties: once with a skirt (and a butt plug!) and once with a pair of black jeans. I must admit it did look great with the jeans; those laces just seem to direct people's eyes straight between my legs and that makes me go all tingly 😃 But wearing nothing else with it means this leotard offers me up as an open invitation to everyone *giggles*. It is high at the front and has little strips at the back framing my ass for everyone to see - perfect for when I have my butt plugged. But just to add a tiny bit of mystery for my shoot, I wore my favourite fishnet tights with it, giving my bum a lovely look. Even then I still wanted a little more kinkiness so, feeling vulnerable and on display already, I decided to put on my wickedly punitive ballet boots. I still need more practice in these, so the added humiliation of being forced onto my tip-toes and having my movement restricted, and the boots forcing me to stand with my naked butt sticking out, meant this subby little girl felt very, very naughty. I hope you find my humiliation hot - I know I did 😉
Lara Larsen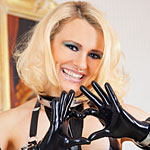 Join Now for Full Access