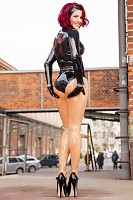 Life keeps always a few surprises for all of us and also if you visit the cotton mill in Leipzig there is no exception. The terrain is at very first with a special atmosphere of a large factory, which developed at the beginning of the 19th century, while the huge demand for cotton. Gigantic halls, small windows, huge gates and of course the ravages of time have created a place that is incredibly attractive and worth seeing. That's why there are regularly guides through the old spinning mill and many sightseers who want to experience the flair of especially. For some people it is not that important what was created here long time ago but rather what happens here right now.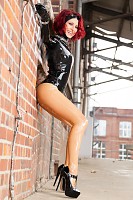 There is a small café in the entrance area, a special creative market in the middle and many different galleries and they attract a wide variety of art lovers and creative people which are a magnet for colorful and strange people coming together to this place. So that is a place where I feel really comfortable and with the distinctive style of a factory site so it was clear that I had to make photos of the cotton mill.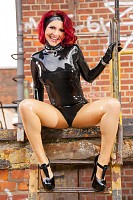 But as usually I wanted to create something again and decided to be included this time almost completely in my beloved material latex. For this reason I took my transparent latex leggings by Simon O. which I love so much and combined it with my black latex body. I giggled into me because certainly that slutty look was not seen before at the cotton mill. It's a terrain on which people made cotton over many years and easily a little alternative bitch seemingly mandated this rule in question. It is a fact that everyone from a workers, visitor or to a guest wore certainly anything made of cotton or at least a similar material. And now I cover myself in this shiny and tight material and break each tradition. But exactly that's always raising me the question: Who set the fact that a girl must wear cotton?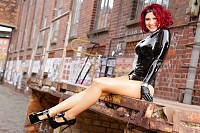 This beautiful outfit was made a little special this time for me: I got a latex mask which shows my face and my hair but is still tight to my head. A wonderful combination to the black latex body encloses my ears and my neck in latex and only my face was free of latex. I think that you can imagine how much I was pleased on this series to please you with my photos at the cotton mill. I am so completely covered in latex like I love it but didn't notice how people look at me. I shine from head to toe, barely covering my body because of the transparence of legs and so I got the naughty attraction on this place. No visitors who wanted to see the spinning mill in Leipzig was expected a girl getting photographed like this in shiny latex fashion.
I noticed the effect on the boys and also the compliments which made me so proud to stand there and so I hope you also love these pictures and video and it is a pleasure for you. Let you once more tempt on one trip in the past and at the same time enjoy this special contrast. My master always told me that i look so slutty wearing high heels and latex but i love to show you all about it as he ordered to me 😃
Lara Larsen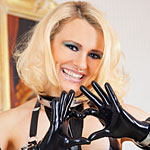 Join Now for Full Access