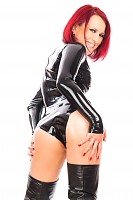 I love it when I can play with my female benefits and see the result that the male splendor brain of the most viewers shrinks on countably few cells. The obvious result is expressed mostly in an excess of energy between the legs and the obvious need to relax the compression state with well-known physical movements. I can read often off the eyes of my strangers about creative scenarios which taking place in the last brain cells and how my desirable body is useful to unload with full satisfaction.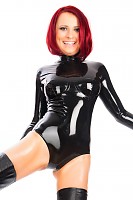 Oh yes, I love it to wear latex and my so seductive and sexy body give the visual result between your legs because latex is not only clothes but also a kinky material. The feeling of rubber on the skin while toughing and fondling me is pure sensuality and passion. Sometimes I close my eyes and imagine a world with pure latex. Every item, every good and every person is latex all around me. At first, it is a dream to feel latex everywhere but then I quickly know that it would be boring for me.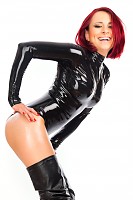 I don't want to lose this feeling and I don't want that you get bored. That's the reason I love to do such a photo shooting like this one. You see only the girl who is wearing latex. It is a special situation that it is in front of a white background and you think it could get boring but the photos don't let you go.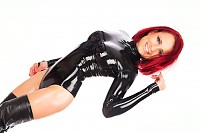 You feel not just in your pants that something is different with this girl. What makes the girl different and is it really only the latex? Or might it be the shape of her body which you see here so exactly and while she present her slutty body with every detail so beautiful to the public. You notice that my body dressed in over knees and tight latex leotard screams loud: "Take me hard and use my holes well!", and you can't turn your head anymore. You are captured by this filthy slut.
You look for every detail in the photos and check the reflection, the body, the shape and then you see why you are captured: It's a little girl, with red head and with a totally innocent smile. A smile which made you melts while the body tells you much more. And you love this contrast and you need it. So take it 😃
Lara Larsen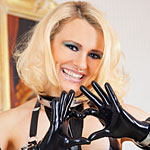 Join Now for Full Access