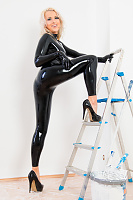 Moving? I hate moves. It's not that I'm basically bored of moving just because it's a change. Changes are often great and motivating and inspiring for me. It's totally annoying to me doing the endless packing and moving and unpacking. That's nothing for me at all and wearing latex clothes can't make this issue really cool.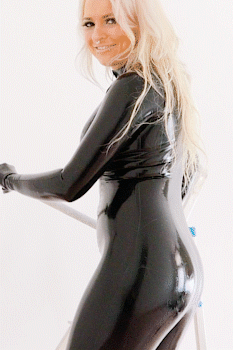 But it looks different when the actual work is done and I can play ... for example with color while painting my room. I don't know if the child in me is even more alert than usual but splashing with color is almost as fun as jumping around in the mud. However, I'm already big girl who has to wash my clothes all by myself. Actually, I would have the conflict of good and evil in me: Splash with colors and have fun OR careful painting and do not spoil too much.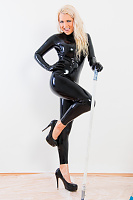 Once again, there is a solution that is so simple and ingenious that I almost did not have to tell much more than: LATEX. YES - of course! And who thinks I'm crazy might be right for general but not this time! I considered whether the color could somehow harm my latex for any reasons. So I took a small latex sheet from my work desk and neatly brushed it. When the paint was dried I was able to wash it off without any problems and the latex looked like before - beautiful black and shiny.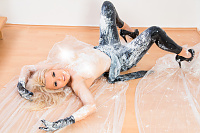 So this series of real life was born, in which I had killed three birds with one stone. At first, I was able to wear latex and that always cheers me up immensely. Every work in latex is much more fun than doing it in normal fashion. Then I was able to rumble and did not have to watch out for anything getting dirty. And finally, these beautiful kinky pictures and videos where I can let you participate in my latex life again. Can it be better than packing so much fun in one hot session? I really only wear my black latex catsuit this time! Maybe I have to sorry. So there is no latex hood, a chastity belt, gag or other vital things that I love so much. Nope, this time it's about the real work and the fun I had with it. So have fun and have fun!
Lara Larsen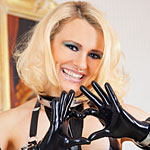 Join Now for Full Access