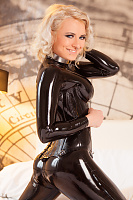 Standing in the plush bathroom, fluffy white towels hanging on smart chrome rails and upmarket, aromatic lotions and potions filling trendy wicker baskets, I wiped off my smudged deep-red lipstick. It had been neat and sexy earlier when I was at the bar with my friend but when she'd left early to head back home because her parents were in town, I'd stayed behind for a drink on my own. I'd been spotted by a guy I'd seen a couple of times before - never to speak to - and this time he'd plucked up the courage to approach me. He said he liked my outfit, a black latex catsuit and heels with a worn denim jacket to tone it down a little, and he was curious about the shiny rubber. Normally I stay with my friend when I visit her, but this weekend she couldn't put me up because her parents were staying, so I'd booked a night in a swanky hotel. It meant I had a big bed and no reason to be quiet. 😉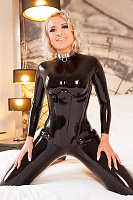 I won't bore you with the details but Jack - or Jake, or Jacob ... I forget - got chatting, one thing led to another and soon we were back at my room. He was eager to feel the tight latex of my catsuit and to explore my body, and I was hungry to satisfy his - and my - needs. Kicking off my shoes as soon as we got through the door, I dropped to my knees and began working my magic with my mouth and tongue. Looking up into his eyes, sucking and licking his cock, I think he was surprised when I swallowed him and took him balls deep into my throat. Gasping, he'd grabbed my head and held me tight until I'd almost choked and struggled for breath. He'd had to stop me before he exploded too quickly and he pushed me away, onto the bed and threw me face down. I let him take control and he ended up fucking my arse. He liked it rough and I was happy to be used but while he'd clearly enjoyed himself and had an explosive orgasm, I'd been left horny and frustrated. Perhaps a little embarrassed at his ... speedy performance ... he'd left almost as quickly as he came 😉 Now, I know my satisfaction is not the point - I was there to be used - but still, a girl needs her orgasm and I wanted one ... or two, or three 😃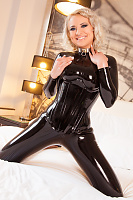 My oral exuberance was both the reason he'd not lasted too long and why I was now staring at my smeared lipstick in the bathroom. I reapplied the coating in the bright mirror surrounded by expensive bulbs like a Hollywood starlet's dressing room and grinned at the memory of just a little earlier. I padded barefoot back to the bed, still dressed in my skintight catsuit, and decided I wanted more rubber, this time inside me. Jay - that was it, his name was Jay - had left without even saying goodbye so it was up to me to satisfy myself and my inflatable vibrating dildo was just what I wanted. I lay back in the sumptuous bed and caught a glimpse of myself, dimly lit in the mirrorred wardrobe. I looked like a disembodied head, hands and feet, the rest of me sheathed inside my tight rubber catsuit blending into the gloom. I giggled at the sight and let my hand slip between my legs. Easing the catsuit zipper open I slipped my fingers into my pussy and realised I had no need for the bottle of lube standing on the bedside table. Quickly grabbing the dildo, I slipped it between my pussy lips and began to slide it gently in and out, sighing deeply at the pleasure.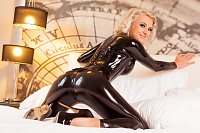 I slid my feet around, feeling the soft sheets and wriggling my toes as i felt my pussy grow hotter, swelling with arousal. I pushed the dildo further in, gasping with delight, and began inflating the bulb inside me. One pump, two pumps, three, four ... I felt it begin to stretch me. Pausing for a moment with the bulb feeling large inside me, I began to lose myself in my own pleasure. I could feel the dildo pushing against me and I found the switch to turn on the vibrations. As soon as they stared I felt a rush of excitement and almost came there and then. I managed to control it and began to play with my tits, feeling the rubber stretched tight and my nipples pushing against it. In my excitement I began groping my breasts like a teenage schoolboy mauling a prom-night date and as I squirmed my legs and feet across the lush sheets I felt the bulb of the vibrating dildo pop out of me. My eyes flicked open and I couldn't help but laugh as the dildo began wobbling like a weird black Christmas balloon on the bed. I deflated it a little but left it with two or three pumps of air inside it, and then gently began pushing it inside again, enjoying the feeling as it stretched my pussy.
Widening my legs, easing myself up off the bed a little, I pushed it further and watched as it disappeared inside me. I felt so horny and dirty and naughty playing with myself here, my slutty behaviour and kinky, shiny catsuit incongruous with the prim and pricey surroundings. I pumped the dildo again and the bulb continued to grow inside: six pumps, seven, eight ... nine. I actually felt it pushing on my tummy and I winced at the stretch. Flicking the vibrations on again I immediately gasped and had to let out a little air. This time the bulb was so big inside me it surely couldn't pop out? I closed my legs a little to try to hold it in place and turned the vibrations up. I felt the dildo pulsing hard against my pussy lips and inside me, and I flicked the little switch to the random setting and settled back as it churned away inside me. I realised I was moaning and writhing in the bed, my back arched and my legs bent up. Teasing my nipples through the latex of my catsuit I felt the beginning of my orgasm, but I wanted to wait.
I eased off the vibrations and released some air from the bulb but, looking down, I found it so sexy to see the two thin rubber tubes of the dildo disappearing into my cunt, the inflation bulb resting against my thigh. I squeezed my legs together and stretched like an sunny summer Sunday morning but I wanted to cum. I switched the vibrations back on, pumped the bulb again until I could feel it as big as a balloon inside me, and began playing with my clit with one hand and groping my tits with the other. Grinding myself against the bulb and teasing myself slowly, then picking up the pace, I twisted my head to the side and opened my eyes. There I saw the tight black latex all over my body, my legs spread and my chest heaving. It was enough to push me over the edge and I felt the orgasm rise inside me. I gasped and thrashed against the bed, the dildo pulsing hard inside me, the bulb stretching me, my fingers racing against my clit on one hand and groping hard on my tits with the other. My stomach churned, my eyes screwed shut, I was arched against the bed as first one, then another orgasm hit, washing over me. I threw myself sideways and buried my face in the pillows, the dildo still vibrating inside me. I felt another orgasm coming but was too exhausted to continue fingering myself. This time I just let the pulsing rubber bulb inside me do the work and I gasped and groaned into the pillows, wondering if anyone in the next room could hear. Sweating, panting and at last satisfied, I rolled onto my back and flicked off the vibe, catching sight of myself in the mirror. "Bloody hell," I thought. "My lipstick's all smudged again."
Fashion: Latex Catsuit by Simon O.
Lara Larsen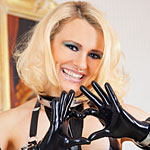 Join Now for Full Access