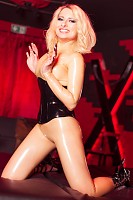 Recently, I was openly asked in a club what games I personally prefer to do. I sat at a bar of a cozy place with subdued red lights in the background. I wore my transparent latex catsuit which I love so much for such places. My exposed body was barely encased with my beautiful latex corset of Simon O. and this situation with the question let me laugh. The situation of this place was just really funny and I answered quite spontaneously: Playing Doctor! Now, another Sir on my other side who obviously took part of this conversation begun to laughed as well and said dry: It's a luck for my that this evening there are only doctors present.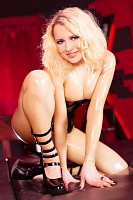 The atmosphere was absolutely relaxed and I just felt extremely comfortable. As usual on such parties where the dress-code is just "latex" the black latex was strongly dominate. Of course, I got mentioned on this darker place with my transparent latex and my light skin showing my tits and pussy so that the group around me was growing slowly and everyone explained that he is also a good doctor and joined the conversation. And I was totally honest because playing doctors was seriously a game I really always loved. I offered myself always as the patient and allowed everyone to examine me freely. That was the point that I noticed for myself that I had a passion to be that way available. I think that this was because my playmates enjoyed exploring my body and meanwhile they were touching and knead me what I really love. There is nothing better than a good massage for the whole body.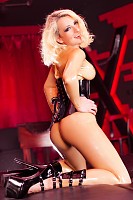 At least I revealed this knowledge freely to all the so calling doctors which let all the Sirs beginning to applause me and asked if I want to be again the patient. It was clear what they meant at this swinger club and you can imagine that it was a tempting offer – so I couldn't refuse. I went, surrounded by six guys in black latex to one floor lower to a room which was called "Game Chamber". It was a room that I really love and which has many of my most favorite furniture as a pillory, saltire or my absolute favorite the sex swing.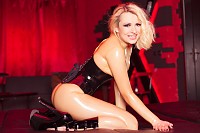 Surprisingly, the doctors noticed the furniture but asked me at first to tease all of them with my latex and my body. A massage with the eyes at first they said and I was giggling. "Ok guys, I will make you horny", I said and I was sure it wouldn't be too difficult. It was one of the easiest things for me with my hot latex catsuit while showing genitals it should bring the gentlemen in the right mood? So, I asked if they can make a large lying in the middle of the game room for me and quickly they run around to fulfill me this little wish.
It was a joy to watch how the masters hurried to allow me to tease for them. And of course, I don't promise too much but the more exact details should not be written here. You know that pictures say more than thousand words so I wish you a lot of pleasure with these teasing pics.
Lara Larsen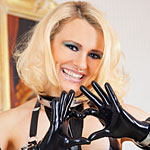 Join Now for Full Access