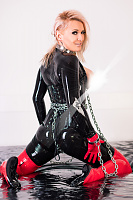 It's that time again - the latex passion took me under fully under control. Some days there is an indescribable demand and feel for this beautiful soft latex material on my skin. Do you know such a feeling, too? Of course, you also occasionally have an inner urge that you have something or want to do something. For example you want to eat a lot of sweets, do sports with friends or just want to surrender to your physical desires and passions.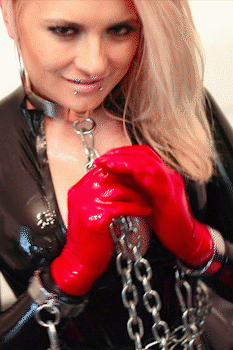 I'm totally sure that you know that feeling. Now, there are certainly some of these drives that are not necessarily great for your health. Eating a whole cup of ice or alcohol is something. On the other hand, I see no problem in sports and much less when wearing latex. Latex is my little weakness and I think that's not wrong and bad at all. Well maybe my greed for latex keeps growing, but that's what I call my sin and that's what I stand for.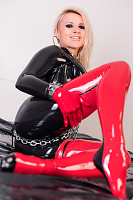 So as I said, that day I had my greed for latex fully under control. And of course that was shamelessly exploited and documented in pictures and videos for you. At the same time, I did not want to make this series so public because there were a thousand crazy ideas in my mind about what I could wear out of latex. This happens to me whenever I could not wear latex for a few days and I have correct withdrawal symptoms. Then my dirty thoughts revolve around latex and everything I could do with it.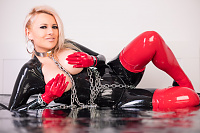 A totally crazy idea was once that I put my whole latex wardrobe on one. I imagined that so many latex layers would have to be a crazy feeling. On the other hand, I also felt like metal and thought of chain, metal hoop and chastity belt. There are really beautiful things and to combine these beautiful, that it feels really cool is my passion.
In this series I chose my black latex suit. I'm totally black at the moment and this latex catsuit is therefore something like my underwear. I like to wear this suit. If someone would take something away from my latex wardrobe, then I would be extremely sad for sure but my black latex catsuit ... that would probably be my death!
Okay, I digress, because then what happened. In addition to black, I currently love the feeling of tightness and security that I get with corsets. That's why I often wear good corsets and it suited my strong desire for a lot of latex. So that the pictures are a bit crunchy I chose red latex gloves and latex stockings. But the special thing is my chains. Actually, this toy is not necessarily a fashion element but I've always found chains great. And if there are many chains, it is even better.
But the crowning glory is what you've been asking for lately. I wrapped myself completely in latex. So of course, I have already wrapped my body with my latex catsuit but this time just a lot more. Hands and feet are also in latex but now also my head. Yes my dear friends of heavy rubber and latex masks, here they are really nice satisfied ... I at least it was very, because packed so it was just a crazy feeling. So have fun and some exciting updates for you.
Lara Larsen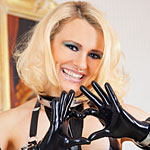 Join Now for Full Access