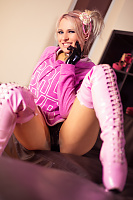 This time I don't want to talk much about around as it came to this series and the hot video. That's not possible, because it was pure passion! I wanted latex (surprise !!!) and found these beautiful ballet boots in my closet. I really do not know why I currently always grab again and again to ballet heels or boots. Is that something like an omen? Maybe, I should go to a ballet school, because I play for a longer time with this idea already.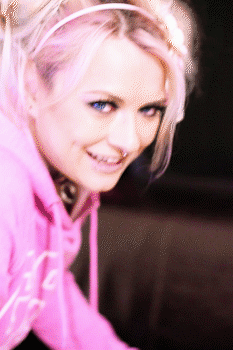 Well, at least I wanted to wear these really nice ballet boots and I also got these beautiful boots from my great friend Rene. And somehow, like my blue ballet boots, it had to wait quite a while for me. But now, the big moment has come because I finally had a great idea to combine something suitable for the bright pink boots.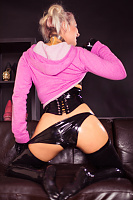 Honestly, these ballet boots fell into my hands more often but I always had the feeling that I did not have the right outfit. Sometimes, it's really hard to find extravagant colors and the perfect matching outfit. Of course, transparent latex or rather a transparent latex suit will always fit with everything. But somehow, I wanted to see my beloved girl pink color again. Now, I found my pink sweater just totally awesome!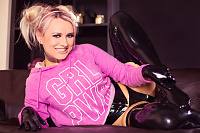 Now it could start with the photo shoot, where I could of course give the series with a few small refinements, such as my collar, etc., a cool kick. In short, I love the pictures and of course the video and hope that you like the pictures really well.
Oh, please comment me if you want to continue to see more ballet boots or ballet heels in my series or if that does not impress you so much. As far as I've heard from my friends the opinions are really different and while I think running and wearing ballet boots themselves feels incredibly sexy, other girlfriends think differently about it. Whatever, the other opinions aren't that interesting for me. I want to know YOUR thought. So leave a comment 😃
Lara Larsen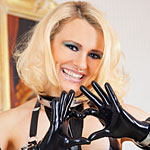 Join Now for Full Access