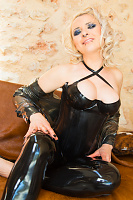 It was not the first time I had been invited by my friend and he had to cancel at short notice. I can not be angry, because there are times for a doctor emergencies in which an important meeting must be canceled. However, of course I was very sad, because after all, I had looked forward to a cool evening together.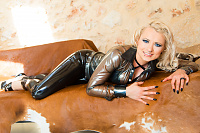 It began at first totally relaxed and I wrote with a friend about the current movies in the cinema. I do not know why, but somehow he said that he has a few genial DVDs at home, which he would like to show me quite happy. I liked him and ... well, really liked him very much. Joking, I asked if that was an invitation and he just sent me a wink.
Okay, I had the question correctly understood what admitted sometimes does not always work. And especially with him, I was a bit careful, because he had already invited me to a "special" evening and unfortunately could not come at short notice. But this time it looked different and with butterflies in my stomach I was looking forward to the meeting.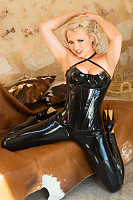 I thought for a while what I could wear for this evening, because I honestly honestly not yet really good and wanted to leave a good impression. So I rummaged in my latex cabinet, tried out the different outfits and then stayed with a pretty elegant blouse with matching leggings by Simon O. Could this combination impress an unknown man? Or do I work in this blouse rather classic and perhaps even dull? I just did not know, but the blouse with the little rhinestones drew me into its spell.
Well, I told myself, I could still draw something crazy below the blouse. Depending on how he thinks and acts I can then let the blouse get dressed or also take off. This was absolutely great for me. I took as a "naughty" piece my latex corset and felt completely sexy at the same time.
I drove to the agreed place, a small house far out of town. I was not surprised, because I have always been loaded in hotels or little inhabited houses. I got out, listened to music and was happy, because it seemed to me that I had not come this time in vain. I knocked several times on the disc until I went to the house. It was once again abandoned and I wondered if it would be so slow to the program that he invited me to cancel.
Lara Larsen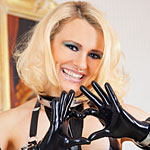 Join Now for Full Access