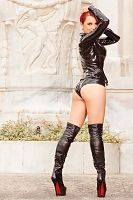 Berlin offers many places and monuments of interest and one of these monuments is unfortunately relative unknown. Or let's say there are for many guides more interesting place to mention. But my location today is located directly in the large Tiergarten and not far from the Brandenburg Gate. It is the Beethoven-Haydn-Mozart Monument, a monument of the three great composers Ludwig van Beethoven, Joseph Haydn and Wolfgang Amadeus Mozart. I was walking in the great Tiergarten and thought that this monument was the right choice for some sexy photoshoots for you and your pleasure.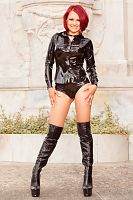 Okay, for sure you will be right of say that my outfit would look so sexy at any place in the world. Well, the white marble of this monument looked so cool for me that I thought it goes great with my black latex blouse, the ultra-tight hotpants with the cameltoe effect and my thigh high boots. So, I decided to take this place for my next photo shooting and make some really nice pictures for you.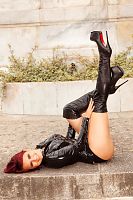 I was not so sure whether you'd find the monument with marble as interesting like me. I mean, I love it when I walk around at the city with you through small and interesting streets. Sometimes there are more and sometimes less visitors who are part of a photo shooting and for sure they also enjoy it to see me in my shiny fashion.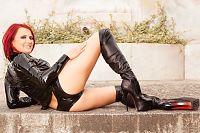 This time there were not many spectators at the Beethoven Haydn Mozart monument. After some time an older man came and looked to me for quite a while as I was posing in front of the camera and moving sexy and I tried to think what was passing in his mind in that moment. But after a while he asked for which newspaper we are doing these pictures and where you get such a nice collar. That was SO CUTE! I found it really great that he had approached me so we talked quite a while and I told him a lot about my lovely latex and the importance of my collar. Join Now
YOU know of course all about latex and a collars meaning and can imagine how beautiful it is for me when someone is asking me about my passion for latex with a real and honest interest. It was so cool for me to tell about the benefits of latex and of course I will let him touching me so that he can understand the feeling of latex even I was blushing lots under his touches. I don't know whether he got deeper interest for the latex scene and fashion but I think that my appearance liked him. And as I also hope you have much pleasure in these pictures as well. Join Now
Lara Larsen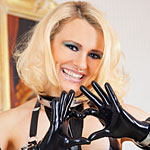 Join Now for Full Access