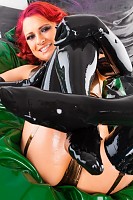 For latex lovers like me the material "latex" is for many reasons a real passion. Personally, I love not only the distinctive smell of latex but also the beautiful feeling on my skin. In this series I will show you a very private side of me, exactly as I usually sleep every night. Of course, I took for you one of my most beautiful latex garments because it was my wish that this session is not just for me a real pleasure. 😃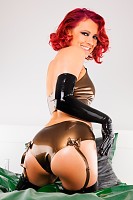 I love to wear my long latex gloves and my latex stockings to this lingerie because on the one hand I feel really sexy and on the other hand I'm packed good in latex. Well, you certainly ask if I ever need a latex outfit in the night while I sleep in my latex bed linen. And yes, it is a difference to feel latex directly on the body or if I lie or be snuggled with a latex duvet. Certainly, you understand me pretty well because it is not just to have a feeling of being rubberized on the skin but also the beautiful light pressure which you get for example because the slightly tightness of latex stockings or gloves.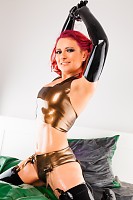 Actually, I have a friend who warned me to show so private photos in public of me playing with myself in such an obvious kinky rubber place which is my normal play and sleeping room. However, I think I'm a little more public and even I show it you I think it is the right place to share my passion with friends and latex lovers as well.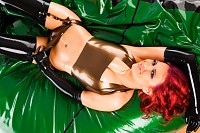 While I was enjoying my time in my latex bed I noticed for myself that one important property for me wasn't present for now: The beautiful gloss on the latex. Well, I have always a solution and you will certainly like it. With plenty of oil, a full oil overload, I started the photos and the video with making the dull latex of the bed line smooth and shiny. But that was just the beginning. I continued with oiling the latex of my garments and made the stockings and gloves shiny and beautiful. Finally, I didn't stopped with using the oil and celebrate a big oil party and took everything over my belly, my pussy and my tits. A real OIL OVERLOAD as you can imagine because nothing around me was without latex or shiny in oil. And to be honest, I think an oiled body is also very sexy and look shiny and damn cool like latex.
I leave you now these private shots and the video and hope you will enjoy it. See how I liked the photo shootings and take part with my passion and feelings. By the way, this outfit and the bed sheets are also available for you… soon in my shop.
Lara Larsen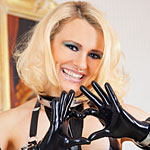 Join Now for Full Access