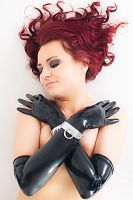 I love the moment if I have some spare time, I'm at home and my roommate needs to leave for some days. I like him a lot but there are some moments which I can't share with him. So, I was glad to hear about his short trip.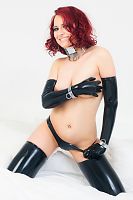 My roommate told me that he need to leave in some days which was like a hint for me to prepare the upcoming event and think about the outfit which I want to wear in this time. Of course, my roommate knows how much I love latex because I wear latex every day. These are mostly catsuits, dresses, leggings and shirts. But everyone has some secrets which he doesn't need to now.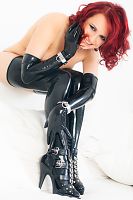 He left our flat as I was wearing my black latex catsuit. It's my favorite outfit which I wear very often and now it was good to make the kitchen work… just something to earn some time. It's not surprising for me if he would get back because he forgot something.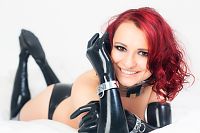 Some time passed while I washed the dishes rather half-heartedly because my thoughts were already somewhere else. The butterflies in my belly were getting stronger and stronger until I could not resist the urge and went to my room.
I took form closet my black latex gloves, my black latex stockings and my underwear. I'm always the good girl and nicely wrapped in latex, but this time I wanted to be a little bad girl. That's why I chose only these beautiful latex parts and put them on with palpitation. Even now my roommate would look at me somewhat irritated but I enhanced this special moment: I took my handcuffs and my strong collar and combined heavy metal with sexy soft latex.
This was a really sensual and beautiful moment in which I could drop myself and which was just right to keep secret. What would my roommate say if he'd see so sexy and submissive? What would he say to his friends when they see me later and what would they think about me? No, this moment is for me alone, and I enjoy every second extensively.
Lara Larsen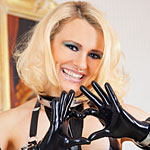 Join Now for Full Access