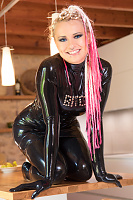 Recently, I was asked what clothes I wear in everyday life. Actually, I thought that was quite obvious on my website, but I'd like to give you a little more insight. The question was of course not whether I wear a leggings, a shirt or a skirt. Of course the question was, whether it is latex or cotton. And to say the same thing in general: Whenever I can wear latex, I wear latex and that is quite often.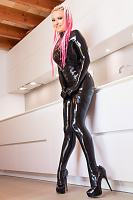 But even if I wear latex there is still difference. I had already told in another gallery that I wear latex almost every day. It often comes to the right situation and so it may be that I wear latex rather than underwear and about it a nice crisp jeans and also a sexy blouse with latexleggings combine.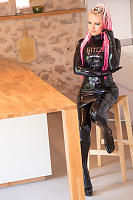 But when I have absolute freedom, I like to take more and more latex. This feeling I love even if for some that would go through as an extreme latex combination. But it is often such a desire and I CAN NOT just stand back. : P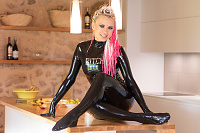 I felt the same with this picture series, where I wanted to get something from the kitchen. The kitchen itself offered itself however now so nice, that I immediately just in my outfit wanted to be photographed. A combination of black tight latex stockings, a black latex mini dress and a black latex corsage. Somehow, the combination does not sound so extraordinary, but I love this combination of black latex to me. Well, a bit cheeky maybe the lettering "Bitch" on the dress but such freaks are just just on my line. 😃
So come with me to my kitchen, get something sweet for snacking and enjoy once again the perfect shine on my body. I have the good feeling that you should also like these pictures and to answer the first question: Latex is and remains my favorite clothes.
Lara Larsen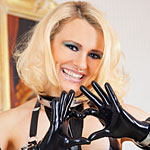 Join Now for Full Access