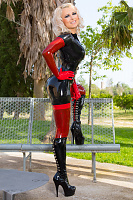 A black latex catsuit still remains my secret dream, because here the brilliant glamor is most beautiful to see. And yet this series should not be so easy, and so the black latex catsuit should be really sexy. But the best way to start is from the beginning.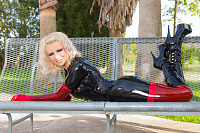 I woke up pretty early in the morning in the finca on Mallorca and could not sleep anymore. The last days were just awesome with extremely much latex, sexy photos, sun, pool and all that I really love. And even today photos were planned but I had in my choice simply could not decide which outfit I would like to attract. But it is really complicated sometimes, because actually every outfit is super sexy. Some things fit better into nature or the pool and other things fit better into a different environment like metal.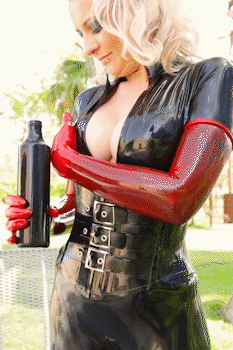 Today, a few cool pictures with a lot of metal should be created here and fit for me almost every latex outfit well. And right there I had my problem, because if everything fits and I can only wear an outfit, then I have to decide for an outfit. And what outfit should it be? And vice versa, what am I supposed to say to all my other loved ones, if I do not wear them in these photos?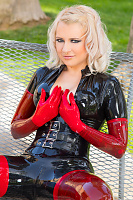 Then my eyes fell on my latex catsuit and I saw how beautiful the morning sun sparkled in it. Hey, that was always perfect and if I can not decide for any outfit specifically, then I take just what I spontaneously just like the best. So I put on my latex suit quite relaxed and felt immediately right. That was certainly a good decision I thought, right?
Somehow I felt that something was missing this time. Something that feels right and good and sexy. Since I saw my latex corset and since I really love corsets, I did not think for a moment, put the corset on and laced it so tightly I just could. Out came a damn narrow waist which I find super feminine and thus genuinely sexy. But still the outfit was not perfect although I already felt beautifully wrapped in latex. I checked in the mirror if my Latexcatsuit sat correctly, corrected very small details and then saw my feet and hands.
I had to giggle because I knew exactly what I would like to wear. A colored accent was missing today and so I took my red latex stockings and latex gloves and pulled them over my latex catsuit. Now everything was fine and it was a great feeling so beautiful and strong of latex enveloped, so I could not wait to get this nice feeling for you in photos and of course the sexy HD video capture.
Lara Larsen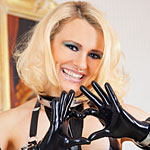 Join Now for Full Access