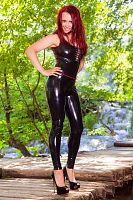 In the summer last year I was visiting Croatia and a good friend told me I would be very stupid if I don't visit the Plitvice Lakes National Park. It's a beautiful place with purple seas and a fantastic landscape. Simply perfect to visit and write about it. I was very thankful for this recommendation and just thought that he missed a detail: Why he didn't tell me I should avoid wearing high heels there? He knows me so that was a very bad fail because the ways are made out of round woods.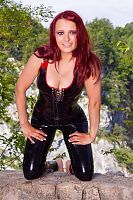 Anyway, it became a challenge for me and I love challenges. So I was walking carefully around between thousands of tourists. At the very beginning a group of Japanese woman was looking on my latex top and always said "very beautiful". That was totally cute of them. With time the view on the seas became more and more impressive and my latex top doesn't have this attention anymore.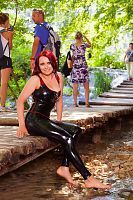 However, my photographer tried to capture the nicest moments of me in this park and I hope you enjoy every photo like I do. And maybe you will smile if you see my cooling my feet in the cold water. Trust me, it was a really hot day and I loved this relaxing moment.
Lara Larsen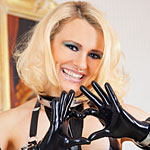 Join Now for Full Access