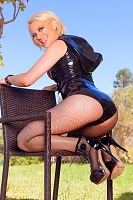 Many people see me and think my style is very normal 'girl next door'. OK, so maybe the tight latex is a giveaway that there's something more kinky going on in my mind! 😁 But my style - even if it is with latex skirts and dresses - can seem quite normal. Some "normal" girl might go out wearing leggings and a T-shirt, or a pair of shorts and a nice top, or perhaps a cute skirt or a dress. These are often my style, too … but my leggings or the shorts under my nice top will be tight rubber, the cute skirt or my dress will be latex. So I understand what people mean when they mention my "girl next door" look.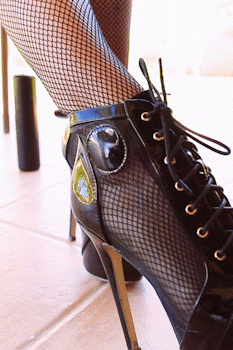 But it really does depend on how I feel, and that "normal" style is not always the case. Sometimes I feel more like a 'femme fatale' or quite a punk girl or a bit of a 'rock chick'.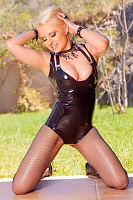 This photo set started because I was in the mood to wear fishnet tights. I'm really into fishnets at the moment - maybe because a friend of mine pointed out how sexy they are and how they look cool on my legs, but also because its summer and they're not quite so hot as normal tights but I can still wear something sexy on my legs I was going to wear them with some shorts but as I put them on I noticed a big tear in them. At first I was annoyed that my tights were ripped, but then I just thought how it would be a cool punk look.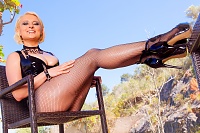 I can often be quite punk girl - sometimes quite extreme. I find myself sometimes wondering, what makes a punk girl? How far can I go being punky and sexy but not too slutty? So the idea for this set hit me right then. I started to think about spiky bracelets, some kind of cool collar and changing my piercings from silver to a cool black - I love how that looks in my septum and snakebites.
Of course, I want to look sexy - that's just me - so I really played up my punk girl side in this photo set for you. I was thinking about shorts and a top but then thought, no … I know the perfect thing. So I wriggled into my tight latex bodysuit, cut even higher than shorts to show off my fishnets even more - and the fishnet pattern can even be seen through the bodysuit. Then I layered it with a black rubber bra with some studs and steel rings, and added two spiky bracelets to complete the punk girl look. But still I thought it was quite 'simple' with just the latex body, so I added a funky collar and a latex hood. It's so nice to be wrapped so much in rubber. I finished the look with my super high platform transparent ankle boots because I love how you can see my fishnet feet through them.
Then, as I shined up my latex bodysuit, I decided to add a little more kinkiness - and oiled my body, too! Silicone oil doesn't just give latex a sexy shine, it can also add shine to my arms and my legs in my fishnets.
So, maybe this is not quite the 'girl next door' look that some people think about me. This is Lara the punk girl … with passion of course
By the way … what do you prefer?
Lara Larsen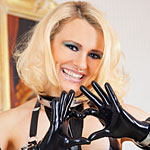 Join Now for Full Access