I couldn't cover myself. I caught glimpses of faces peering in at me and I knew they could see me. They could see my body. They could see me struggling. They could see me trying to hide from their gaze, but there was no way to escape it. Locked in the box I was helpless. I wanted to get out, I'd had enough, but the cuffs held me and I was stuck.
Another face peered in through the viewing hole and I heard giggling. I tried to cover myself but with the chains on my wrists holding my arms up, all I could do was try to squeeze my elbows together in front of my chest. All I really achieved, though, was to squash my tits together and offer them up for a better view. My voyeurs giggled again and moved on.
It was hot and stuffy inside the box and wearing skintight rubber was making me sweat. I could feel the droplets forming on my back and chest under the transparent latex. They soon turned to ticklish trickles making their way slowly down my spine and between my tits. I felt one continue into the waist of my transparent tights and between by butt cheeks.
Blowing hair out of my eyes I heard more voices, muffled from outside the box, more laughing. Forced to crouch, my feet strapped into clear whore-heels, I could barely move. I could feel the latex tights pressing against my pussy and I knew that in the confines of this little prison, my legs spread apart, I couldn't hide my own wetness. Yes, I was turned on. But I didn't need everyone else to see that!
I shuffled my feet a little to ease the pressure on my knees and I felt my pussy lips spread even more against the clear rubber stretched across me. I could feel my feet slipping inside the thin sheath of tights in a mixture of lube and my own sweat, my toes clearly visible and my dark nail polish a contrast to my transparent heels.
Wrists a little sore from the cuffs, arms aching from being held aloft, my knees burning from the uncomfortable predicament, I wriggled helplessly, breathing deeply and managing only tiny relief and to further press my firm nipples against the stretched latex of the clear blouse. More giggling from outside. More eyes appearing in the little viewing slot. I closed my eyes and willed them away and wondered how much longer I'd be kept here, locked in a box.
Lara Larsen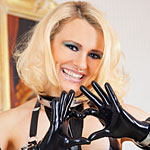 Join Now for Full Access