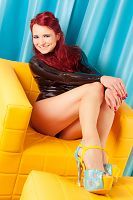 Do you know this feeling that you want to relax so much for a moment? Just lay down and feeling good? What can be better than this? And in fact this day was so good at all.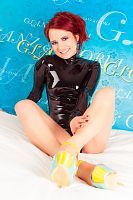 I was traveling around in Regensburg to visit the city and catch some cool impressions. I think you remember this photo set? I wore my black latex cat suit, my black latex corset and skirt over it and of course hot and sexy high heel boots. The right day for a little latex loving girl like me and you can imagine I enjoyed every second of this perfect day in my hot outfit.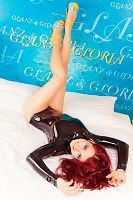 But finally after day ended I got really tired. Wearing latex all the day with a tight corset and walking in high heels can be hot but takes energy. As I arrived in the hotel I took my latex off and felt naked at the moment. It was like missing something important on my skin. I lay down in the bathtub enjoyed the water and was already dreaming of another latex outfit for the next day.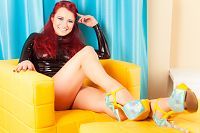 I left the bathtub and felt a shiver over my body. The imagination to miss latex in the night made me sad. Isn't it crazy? Quickly, I looked in my suitcase and found the right sleeping suit. I noticed that it was the right suit at the moment as I felt it in my hands. I heartbeat was going lower and I felt relaxed again as I took my latex top and my latex slip on. It was seriously a must have on this day. "So simply things can make you happy little girl!" I giggled to myself. I just done some photos of the outfit and hope you like them.
Lara Larsen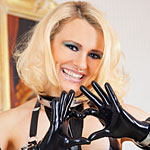 Join Now for Full Access