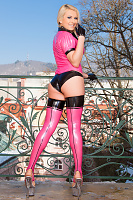 Many of my journeys are round about my work as you know. I'm so happy that I can freely enjoy my latex passion without any limitation. On my last beautiful trip to Karlovy Vary – which you still enjoy in another photo and video set - a good friend asked me what I do in my spare time. "After all, you're not walking around in town for 24 hours, right?" Somehow I had to laugh because of this funny! I felt that he was not and asked very carefully.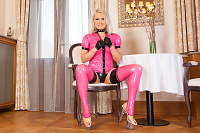 Well, in Karlovy Vary we had a beautiful sunshine but there was still snow in some corners. So I couldn't walk in the city for hours. I had also to write something about this cool city and my experiences on my hotel room.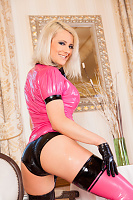 My hotel room was a fairy tale castle and I really enjoyed the atmosphere. Accordingly, I was glad to come back to the hotel. The room was pleasantly warm and so I pulled out my nice but narrow corset and the latex suit and chose to relax somewhat more transparent and relaxed.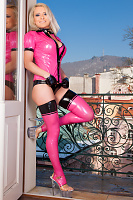 I had a wonderful combination of Simon O., which consisted of a pink blouse and pink stockings. A beautiful, striking and brilliant combination of some thin latex pieces which I now over-laid to relax a little. It was just my desire to feel sexy and kinky and it was perfect write search for some details on the Internet about this place. But before I start writing, I'll show you a few sexy pictures what I was really wearing. Have fun 😃
Lara Larsen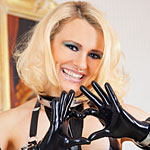 Join Now for Full Access