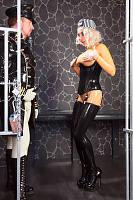 As a little submissive girl I must watch my behaviour at all times for my Master. I have always tried my best but I knew I'd made him angry recently. We were at a club and I'd been ordered to play with another girl and to make her cum, but I was not allowed to have my own orgasm. Under his control I'm a good little girl. Well, most of the time. But on this occasion I got carried away. After making her cum, she had begun to play with me and ... well ... I defied my Master. I was a really naughty girl. That's how I ended up here in a cell, being punished and humiliated.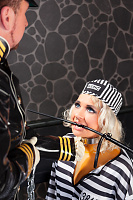 Master decided I needed extra training and arranged for me to be sent away for a weekend of intensive - and intense - correction. A full two days of control. On Friday evening I was ordered to put on my transparent latex catsuit with a corset and stockings and told strictly to remain in the outfit for the whole weekend - I was to be collected late on Sunday. He then ordered me to put on a comical prison uniform over my latex, handcuffed my wrists behind my back, shackled my ankles and had me hobble to the car, which he'd parked in the street. People could see me shuffling across the sidewalk! He then drove me for two hours to the dungeon facility where I was handed over like a piece of property.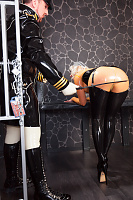 I was pushed into this small cell, surrounded by metal bars, and left for the night, still cuffed. I managed to snatch a little sleep on the lumpy excuse for a mattress in the floor, and was woken for some sloppy porridge at God-knows-what-time, which I had to slurp from a dog bowl with SLUT written on it in marker pen. I was bent over and whipped, I was left to stand on one leg for an hour and spanked with a paddle if I even looked like putting my other foot on the floor. I was ordered onto all fours, my steel collar locked to the concrete and my arse and tits groped and teased, but I've not been allowed to make a sound beyond saying "thank you Sir" to my jailer. At one point I was ordered to stand facing the back bars of my cell, my legs spread as wide as I could and my hands on top of my head. I have no idea how long I stood like that: maybe an hour, at a guess. Then I heard a voice behind me: "What are you?" Startled, I hesitated, just a second, and felt a stinging "thwack" on my buttocks. I dare not turn round to see what it was but I winced in pain, guessing it was the paddle. Again came the voice, "When you're asked a question, you answer immediately in the manner your Master taught you. Do you understand?"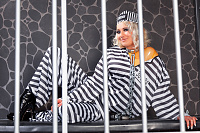 "Yes Sir," I said quickly. "So tell me, what are you?", "A slut, Sir.", "And?" I wasn't sure what answer was required but I am known as various things when I'm with Master, none of them human. "A toy," I said, a little uncertain, quickly adding, "Sir!" THWACK! I winced again as the paddle hit me but didn't move my hands from my head. My legs were killing me by now, the inside of my thighs burning. "What are you?", "A toy, Sir.", "What else?", "An object, Sir.", "Good. Are you a girl?", "No Sir.", "A woman?", "No Sir!", "A female?", "No Sir." My answers came quickly to avoid the paddle. "You're not a woman?", "No Sir.", "But you have a pussy, don't you?", "No Sir. My pussy is just a hole to be filled, Sir."
The jailer nodded his approval. "Now, I'm told there is a nice pair of tits and a under that uniform. Is that right, slut?" I squirmed a little at the thought of displaying myself. I didn't know this man and I was basically naked under the uniform with the latex being totally see-through but I quickly responded: "Yes, Sir.", "Let me see them, now!" I cowered a little, as much as I could anyway, with my legs spread wide. I didn't want this man to have my body. I felt shy and timid. I was happy being used by Master, and even being used by other men and women at clubs when Master ordered it. But here, alone, without Master, I felt abandoned.
He ordered me to take off my uniform and throw it out of the cell. I obeyed as he stood and watched me, nodding approvingly. Then he handed me two pairs of metal cuffs and ordered me to lock my ankles together and my wrists behind my back. Soon I stood in my transparent catsuit, black corset cinched tight, and my stockings and heels. My tits and pussy clearly visible, shackled helplessly. That's how I remained for probably two, maybe three hours. Left alone. My arse was sore from the paddle and I felt humiliated, dehumanised. I was quite sleepy when the jailer returned and ordering: "Stand still, do not move."
He immediately began pressing his fingers against my pussy through the tight latex of my catsuit and groping my tits, teasing my nipples and then he reached around with both hands and began squeezing my bum as he began to work his tongue against my clit through the latex. With all the humiliation I felt myself getting more and more horny. I was horrified to find myself getting wetter and wetter under the catsuit as he teased with his tongue on my pussy and probed my ass with his fingers for what seemed like hours. I could feel myself getting closer and closer to orgasm. But I knew this time that Master had forbidden me from cumming without permission and he wasn't here to give it. Desperate for orgasm, I refused to let it happen. I stifled my moans and held my breath, I thought of how I'd let down Master at the club ... I even thought of a shopping list ... anything I could do to keep my body from orgasm. Eventually, though, the jailer stopped and stood. He smiled and in a stern whisper said close to my ear: "Well done, slut. Your Master will be proud." I was so pleased with myself and appreciated the praise.
And so my weekend went on. I spent most of the time with my hands cuffed behind my back and found that the more I was humiliated, the sexier I felt. The officious jailer made me stand on one foot and bark like a dog at one point, but I did it; I was ordered to grope myself in front of him while he sat and watched, like a kinky lap dance; I was cuffed to the cell wall and subjected to a vibrator as he tried to make me cum, but again I managed to stave off any release. I became conditioned to obey. I felt at one with my latex skin, and loved the tight squeeze of the unforgiving corset, the stockings and heels on my feet. And then toward the end of the second day I found myself with my wrists chained above my head and my feet to either side of the open door to my cell. I was presented ready for Master to return and collect me. And I was horny as hell.
So here I am, everyone ... take a good look. Your obedient toy is here to be used 😉
Lara Larsen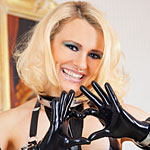 Join Now for Full Access