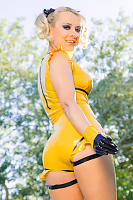 I must apologise in advance for this set of photos as I wonder if they might be a little boring for you when, in fact, I set out to achieve quite the opposite.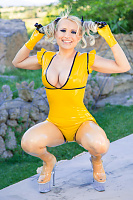 I had some crazy ideas in my head for this set as I was going through a mountain of lovely latex: different catsuits, gorgeous sexy dresses, stockings, leggings and various other wonderful rubbery items. For some reason I like mixing latex at the moment, combining several pieces to enclose my body as much as possible in rubber. If you have tried latex for yourself you'll understand how wonderful this can feel.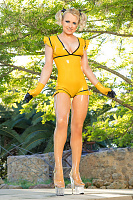 I picked out some very cool items and challenged myself to combine them. I'd imagined my black latex corset squeezing my body tightly over my black catsuit. Then I changed my mind in favour of the corset over my transparent catsuit and then a latex dress over the top, giving me a tightly cinched and pinched waspish waist.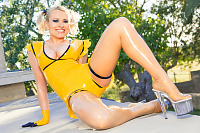 But something still didn't feel quite right. As I rummaged for more ideas I noticed the vibrant yellow of this very sweet latex bodysuit. Looking outside at the bright, warm summer weather, the sunny yellow leotard seemed ideal.
I was still holding my transparent catsuit and wondered about wearing the bodysuit over it, then adding my corset. It was as I was thinking this - how the black corset would complement the yellow bodysuit's black trim detail - that I suddenly remembered the perfect combination. Just before my holidays I'd made myself some transparent rubber stockings, adding a thin black trim at the top of the thigh to prevent that annoying roll-down that can happen. (So annoying *giggles*).
These would work perfectly with the cute leotard, I thought, and they'd be even better with my transparent stripper heels than my catsuit because I'd have my feet covered in transparent rubber, too, rather than the latex cut off at the ankle. Perfect 😉
Suddenly very happy with my choices, I oiled myself up with lashings of lube and took my time to enjoy the dressing, feeling my body slowly enveloped by skintight shiny rubber, the stockings covering my feet and legs and the leotard hugging my body tightly.
With some short yellow and black matching gloves to complete the look, I checked myself in the mirror and was delighted with the combination.
I just hope you don't mind that the cute bodysuit and stockings look more sweet than sexy. Can you forgive me? Please 😃
Lara Larsen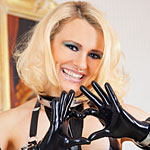 Join Now for Full Access