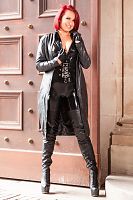 For me latex is a really beautiful material, which is perfect pants, shirts etc. Somehow, I've a very special relationship to latex and also for my visit in Weimar I could not resist to wear my lovely black latex catsuit. Over this I took my beautiful black over knees boots from Arollo. This combination was already super cool as I saw me in the mirror and I knew that simply this look is an eye-catcher. But the autumn is close and days getting cooler so I also took my black coat from Fetish-Design and loved this hot look! And the more I wear latex and leather the more I find pleasure in these combinations. Especially, for the coming fall it's a tempting prospect – isn't it?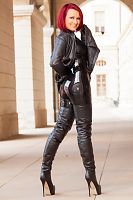 Today, I would like to tell something about why I drove to Weimar. On the one hand, of course, because I'm editor and I was asked to write something about this little town filled with my personal impressions… for whatever reason. 😁 But there is a second reason which lies on the person who also made Weimar very popular: Johan Wolfgang Goethe id for me - as a little reading little girl - something like a flower on a green floor.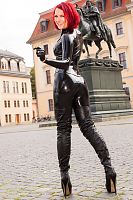 I had always loved reading and but like everyone in the school no one liked to read their books. I believe that I had a rejection to these books but the difference was the compulsion that an audit on "Faust - the tragedy first part" was announced. My quota for poor grades had already been used and so I decided for a change and begin the "Faust". Actually, I wanted to read a few lines and then combine it together for myself with a little creativity. But just the rhymes and the appearance of Mephistopheles sounded so cool that I read the whole book. Who could this man managed to write a book like that? Honestly, that impressed me so much that I wanted to visit Weimar personally.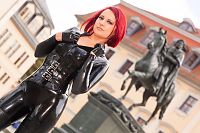 I went into this really pretty little town that's equipped with an excess of a variety of sightseeing and what Goethe had certainly not foreseen, in just my tight latex catsuit, my overknee-boots and my leather coat. Obviously, I was a surprisingly hot appearance in this sleepy village. My photos begun in Schloss Weimar and already here I was the kinky attraction Lara. Again and again I was approached totally sweet or partly embarrassed, what kind of a suit it is, what about the gloss or whether I can still breathe in latex etc.
After much laughter and the first pictures I went from Schloss Weimar right on the square of democracy towards "Duchess Anna Amalia Library". This library became sad notoriety also for less interested in culture from the news because of a big fire there was a loss of countless books. Today, the library was restored and there is still effort to rescue of many books.
So from Weimar Palace up to the Duchess Anna Amalia Library it was a very short walk and even as I was going to Liszt House it really began with rain. For me it's no problem in my latex catsuit but my photographer had his legitimate concerns about its camera. 😃
So, I finish now my little story with a small verse from Faust: Fine gentlemen, and lovely ladies, / Rosy-cheeked and finely dressed, / You could help me, for your aid is / Needed: see, ease my distress!
Lara Larsen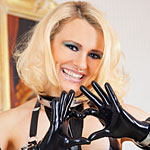 Join Now for Full Access